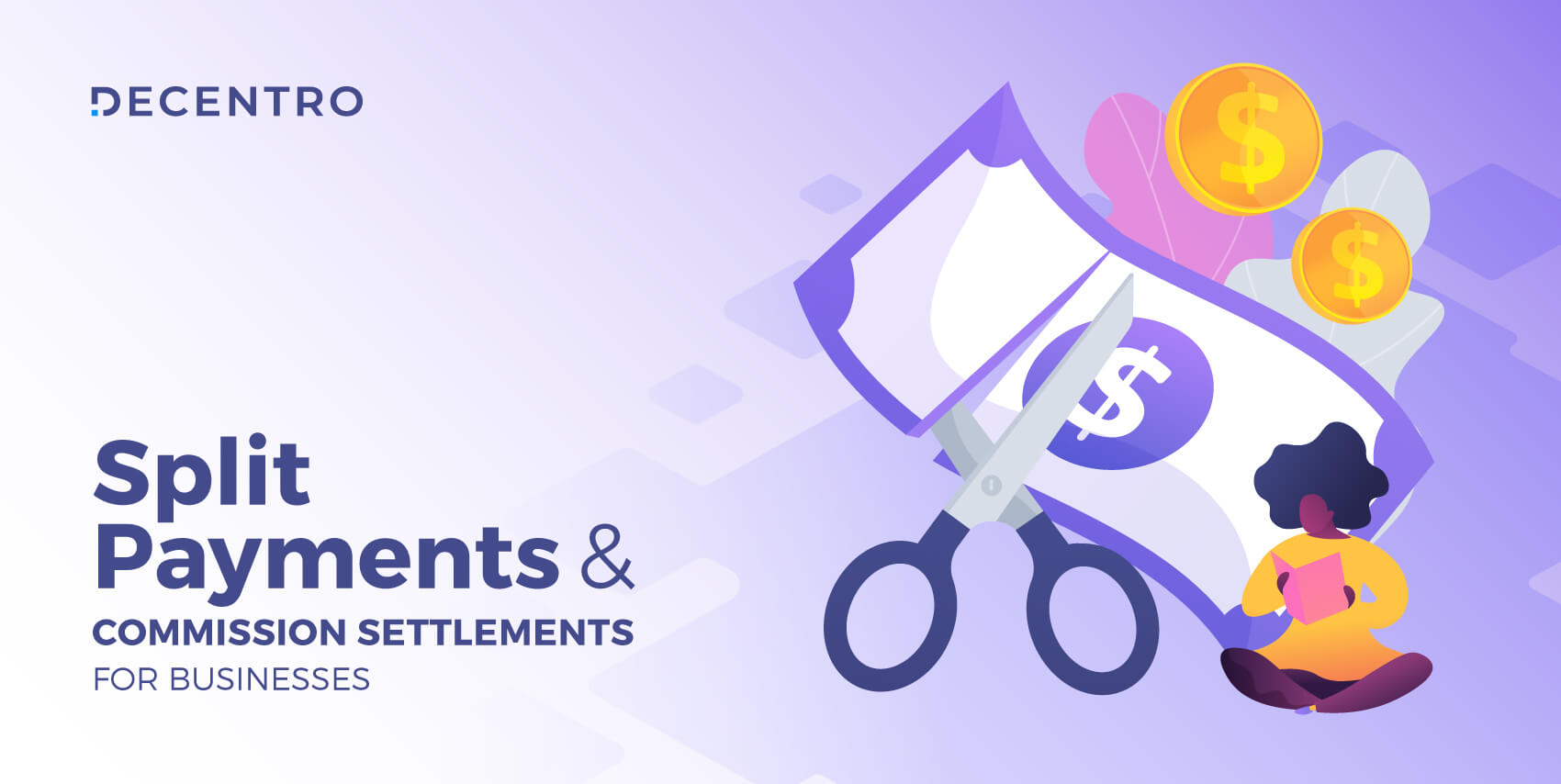 Enabling Split Payments & Commission Settlements For Businesses
What are split payments? How does it work? How's it a game-changer for businesses across industries?
A thriving online marketplace. A buzzing retail chain. Or an SME SaaS platform.
As a business owner, you must deal with countless customers, partners, vendors, or merchants day in and day out. Umpteen conditions, varied invoicing, money flow reconciliation… the list of things to take care of hardly seem to cease.
To make matters worse, these factors soon pose major challenges to business owners. Did you know?
80% of businesses that handle cash flow every month survive; the 36% who manage it yearly in comparison.

Fin Pacific Study
Can split payments be the answer to a lot of these questions? Let's find out!
What are Split Payments?
Do you remember the nightmare of splitting a simple food or travel bill while on a friends-night-out? Especially before the advent of UPI payments?
Now, imagine a business encountering similar but more severe hassles while engaging with multiple vendors, sellers, or merchants!
Split payments refer to the process of having multiple payment destinations for a single collection inflow. The money for these destinations (end party/seller/vendor) is collated & reconciled before settlements by the business.
With split payments, your business can:
Automate your daily operations,
Provide real-time payment visibility to all your stakeholders,
Prevent settlement delays for your merchants, partners, or vendors,
Manage commission settlements easily,
Reroute & manage money flow 10X more efficiently.
How Does Split Payment Work?
Your business may offer customers cash, card, or online transfer payment options. With split payments, you are enabling customers to choose their method and the manner of payment. All while working like clockwork in the backend.
In the simplest form, here's how split payments work. Let's take the example of marketplace business.
A customer places orders from multiple sellers on the marketplace. While the user pays the entire amount via a single transaction, for convenience, the marketplace uses the split payments feature to settle the funds to the different sellers, who then process the order and dispatch it.
As a result, this helps a marketplace business owner keep their customers and sellers/merchants happy & satisfied.
If a commission is signed between the marketplace owner and the sellers, the same can be handled during fund settlements! Furthermore, a great banking as a service(BaaS) platform can help track these transactions and reconcile them, saving the business time, effort, and capital.
Popular Use-cases for Split Payments
We've already seen an example of split payments. Let's take a look at some broader businesses & horizontals where this is quite the godsend to managing cash flow and settlements.
Online Marketplaces
A hub where multiple sellers come together to interact with and sell to customers, a marketplace is one of the core businesses that benefit from split payments. Consequently, as we've seen in the workflow above, a business can route the payments from customers to respective sellers.
Example: Amazon or Flipkart facilitating multiple sellers to connect with customers.
Aggregator Platforms
Similarly, an aggregator platform also benefits from split payments with easy payment settlements to merchants. In this manner, the platform can transfer funds from multiple users to the service provider.
Example: Cab sharing platforms like Ola can route payments from multiple users to a driver.
Multi-branch Retail Outlets
When a business has multiple branches, managing the money flow isn't precisely breezy in a usual scenario. However, split payments make it possible to track each order from a branch and simplify the bookkeeping process.
Example: Pizza outlets like Domino (yum, sigh!)
E-learning Platforms
There's no shortage of edtech platforms; it is one of the fastest-growing sectors in the country. With split payments, it becomes easier for these platforms to transfer the payments from each student to the concerned tutor for their preferred course. The entire process becomes super simple even if the student opts for different classes simultaneously.
Example: Platforms like Unacademy or Coursera offering diverse courses for students.
Gig Platforms
Gig economy platforms aim to unite an unorganized sector and bridge the two worlds of demand and service. Using split payments, a gig platform can simplify payments and settle funds from hirers to workers without delay.
Example: Platforms like Workflexi connecting freelancers with companies who are looking for short-term projects.
How Can Decentro Empower Your Business?
During our chats with many customers, it became abundantly clear that they struggled with payments irrespective of the business size. While our Payments APIs helped with instant money transfers and settlements, split payments and commission settlements were features that we knew would empower hundreds of businesses to risk crashing into cash flow problems.
Decentro's banking API platform absorbs the complexities tied to the entire flow of split payments and simplifies it for businesses in 3 key non-trivial ways. Let's see what they are!
Tech

: To handle the level of transactions that a marketplace or aggregator has, the need for robust APIs is undisputed. Decentro's battle-tested-&-ready APIs process millions of API hits per month with >99.9% uptime, and 30% faster response times than industry standards.
Business: An expected downtime, black swan events, or volume spikes can bring the functioning of a business to a full stop. To prevent this from happening to yours, we've powered up a multi-bank architecture in the bank that switches seamlessly in case of an unprecedented event.
Legal: Often a factor many business owners overlook, hitting a legal headache will drain time and money. To ensure complete compliance, we route all transactions safely via nodal and escrow accounts. Not only that, we take care of any and all compliance-related activities when it comes to dealing with the underlying regulated partner entities.
What's more?
10X Faster Go-live Timelines & >90% Reduced Expenses
Target faster go-to-market timelines with your payments. While a typical financial integration may take months together and burn a lot of capital, we help you reach there way faster, within weeks to be precise, and at 90% lesser overheads.
Automated, Real-time Reconciliation
The entire process becomes needlessly tiring if split payments don't come with automated reconciliation. We help you track the source of all transactions, even failed ones, via virtual accounts. The reconciliation is done in real-time, fully automated! Did we say you can remove the risky bank transfers via a file completely out of the equation and ensure security at all levels as well?

A Lot More Along With Split Payments
While you are taking care of split payments for your business, there's a lot more you can do alongside. Be it Buy Now Pay Later, in the form of physical & virtual cards, neobanking APIs, and more!
Now that you know how we can help your venture, would you like to meet the businesses already leveraging Split Payments, managing their cash flows simplified, and elevating customer experience? Join the likes of our customers like Jumbotail, Gomigo, and Zoozle, and enable the same for your business today!
Got a thought? Drop us a message at hello@decentro.tech!
Cheers!