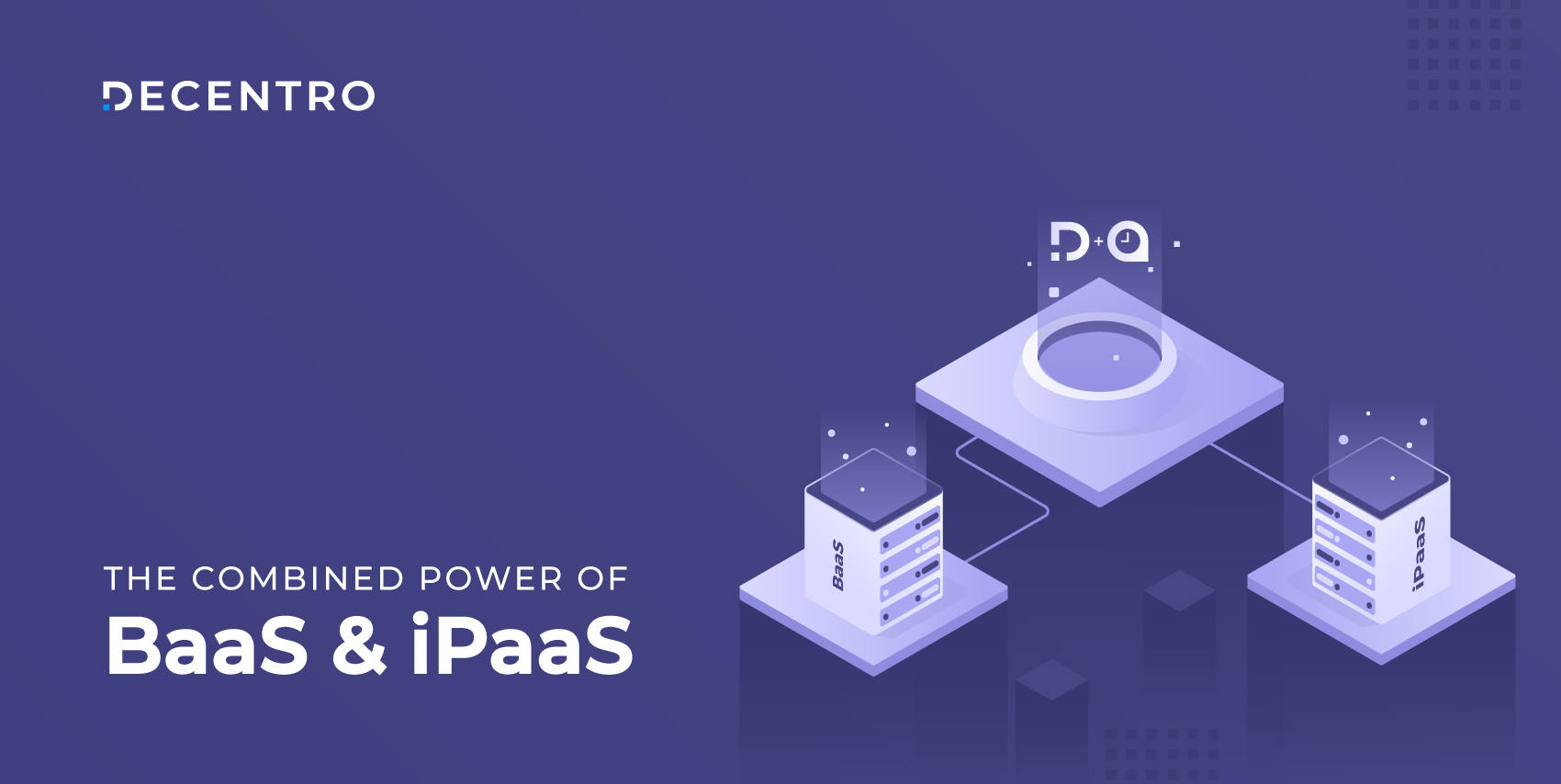 Helping Businesses with the Combined Power of BaaS & iPaaS
We're thrilled to announce Decentro's partnership with Quickwork that brings together iPaaS & BaaS.
There was a time when building a product or launching a new service required business owners to invest heavily in development and associated resources.
With the entry of no-code & low code platforms, the possibility of building new things without an ounce of code became a reality. Furthermore, taking things a notch up is iPaas or Integration Platform as a Service that helps companies of all sizes to launch & market products with minimum constraints.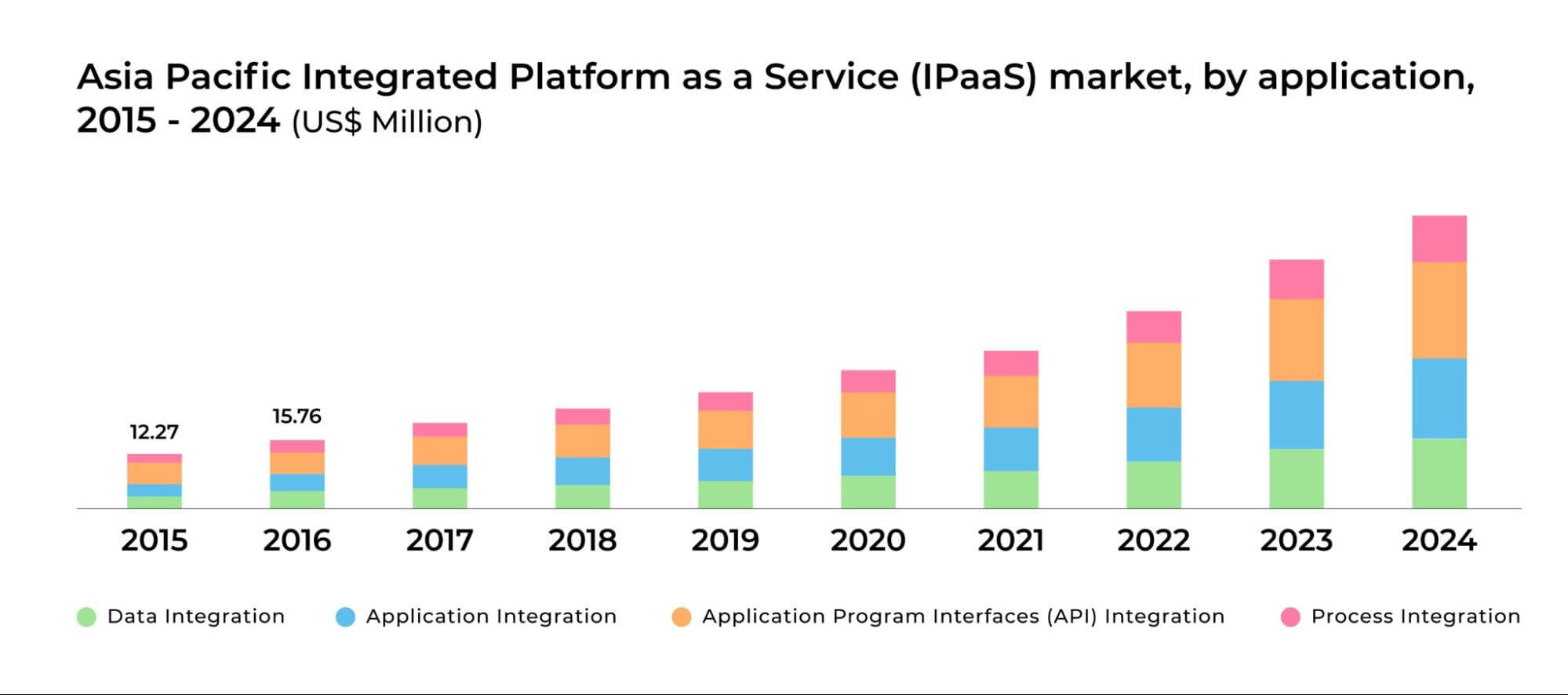 According to MillionInsights, APAC is one of the fastest-growing markets for iPaaS with a CAGR of 25% from 2017 To 2024.
iPaaS can effortlessly alter the underlying problems that IT teams and businesses face in their day-to-day operations.
Therefore, it's with much delight that we announce Decentro's partnership with Quickwork, a no-code iPaaS platform. This integration combines the power of BaaS with iPaaS to enable any business to set up seamless financial workflows. Here's the story covered by IBSintelligence on our partnership with Quickwork.
Let's dive deep into iPaaS & BaaS, shall we?
What is iPaaS?
When it comes to digitization, businesses have hopped on the bandwagon, without second thoughts. And, no surprises there since IT & admin teams spend hours together to streamline even simple processes.
iPaaS or Integration platform as a service is defined as a platform that standardizes & unifies data flow between applications. Consequently, it becomes easy to share data across teams and provides a single interface to access data & gain insights.
We're all familiar with no-code & low-code applications that help users without any coding background build products and set up workflows. And, no code forms an integral part of iPaaS. However, it's not just the no-code feature that's a distinct characteristic of an iPaaS platform.
According to Boomi, an iPaaS platform must:
have roots in cloud,
allow free flow of data by being 'open,'
be easy to integrate with diverse applications,
offer low-code implementation,
and, work seamlessly across different platforms & devices.
What is BaaS?
Banking as a service or BaaS enables non-banking financial institutions & fintech companies to build innovative products using banking APIs. As a result, a fintech can build products on top of a bank's infrastructure and use the APIs that banks open up.
Let us understand more about Decentro-Quickwork integration and how it can help businesses like yours.
How Does BaaS-iPaaS Integration Help Your Business?
Any fintech company can create business workflows on top of Decentro's banking APIs and Quickwork's no-code platform, in minutes. With Decentro-Quickwork integration, it becomes effortless for companies to create multiple user journeys and blend financial workflows seamlessly.

For example, create an end-to-end user journey in the fintech space, link with multiple banking/financial institutions or Govt databases, and connect with over 1000+ apps such as business intelligence, messaging, ERPs, CRMs.
What's more?
Faster Integration Cycles
Your business can bypass the long waiting period of building and shipping products- let us take care of it from end to end. Select the desired action and trigger for your workflows, connect with relevant applications of your choice, and go live instantly!
Launch Even Without Tech Teams
With Quickwork and Decentro, your business can create a data flow even if there aren't enough resources or a tech team staying put. Consequently, this integration comes as a boon for micro-entrepreneurs, small companies, and legacy institutions that do not have enough bandwidth to invest in integrations at present.
Ergo, a company requires at least 3-4 developers to build a single banking integration. Moreover, it'd take around 4-8 months to go live along with a spend of thousands of dollars each month.
As a result, this Baas-iPaaS integration empowers even a single-person business to launch a basic financial product within a day or two and without investing a lot of capital.
Decentro- Quickwork: Some Use-cases
Let's take a look at two use-cases where a business can employ Decentro's Accounts and KYC banking APIs and sync it with Quickwork's iPaaS platform to create workflows.
Verify & Onboard Customers Via WhatsApp
Utilize one of the most popular messaging apps to onboard and verify your customers with KYC. Let's understand how.
A business signs up with Decentro and Quickwork platforms. Quite simple and can be done in minutes.
On the Quickwork iPaaS platform, choose WhatsApp integration and connect your business account & verify it.
Choose from a list of actions that best suit your business needs. For instance, when a new customer inquiry comes in.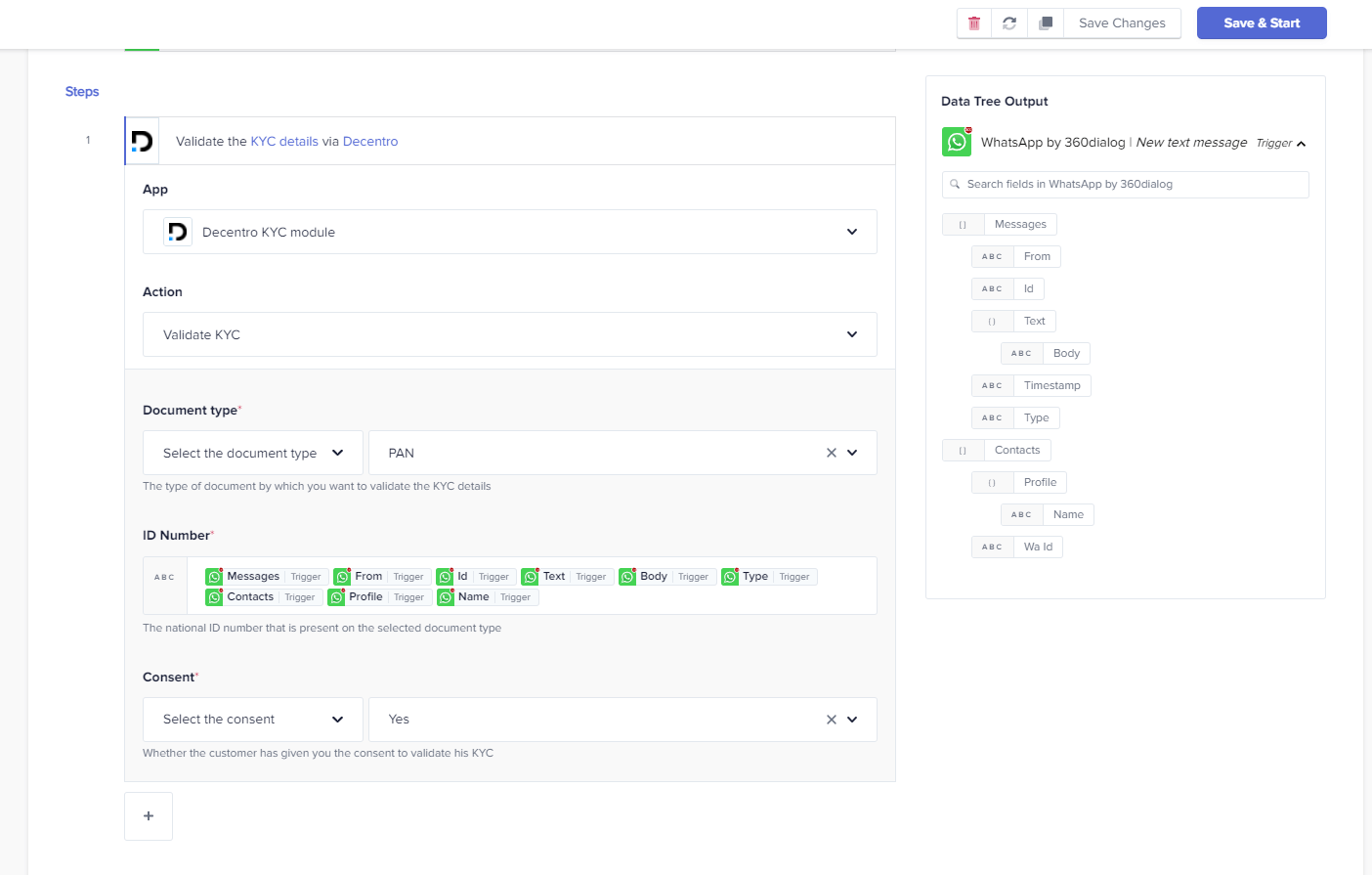 4. With the customer's details, such as PAN or Aadhaar, run verification using Decentro's KYC APIs.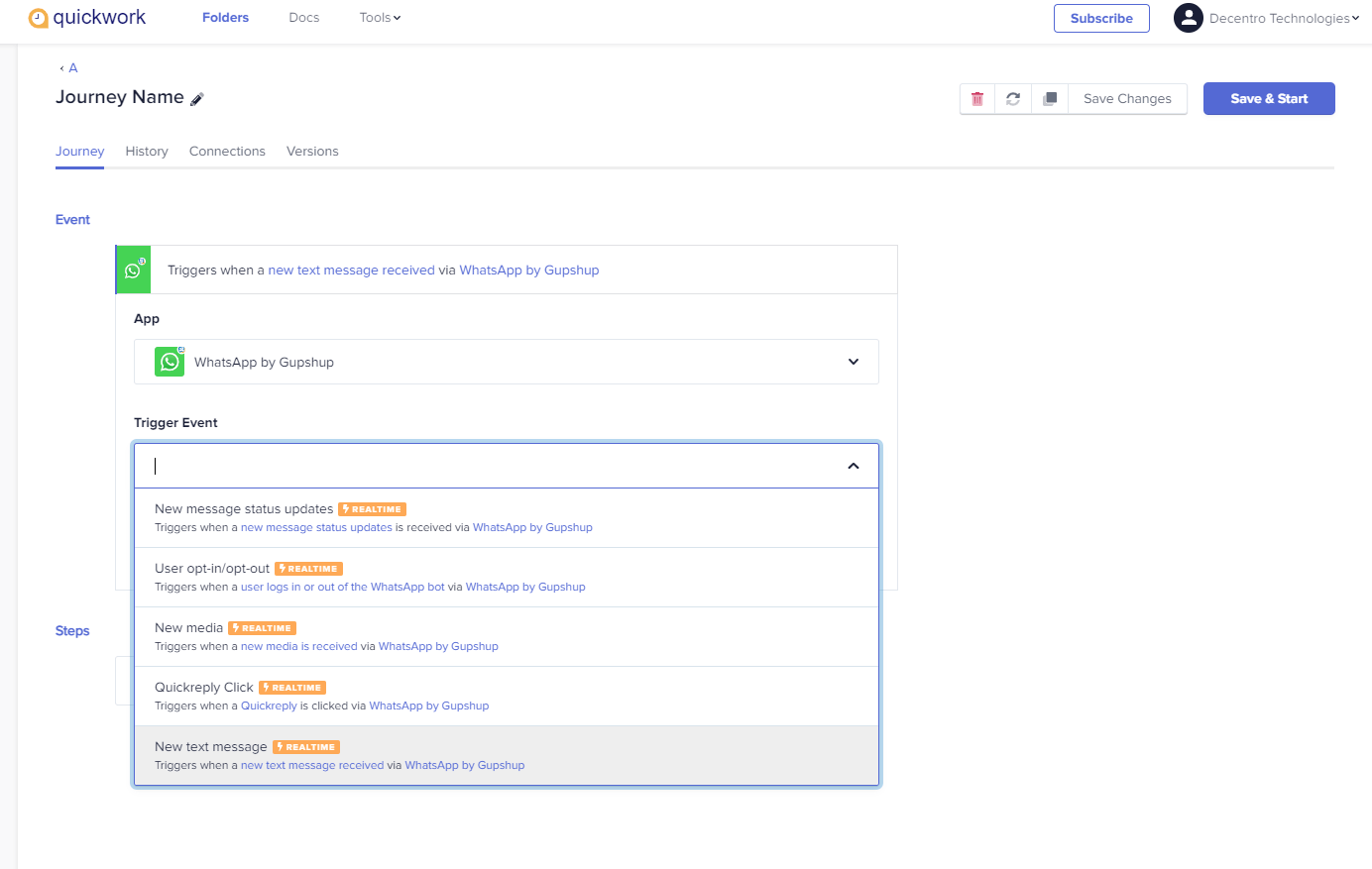 5. Furthermore, you can set up the details to be added to a spreadsheet or communication tool such as Whatsapp. In this manner, you can keep track of all new users and have their KYC verification done in real-time, fully automated.
Set-up ERP Workflows With iPaaS
Run day-to-day business operations, such as balance tracking, statements fetching, money transfers with this iPaas-BaaS integration feature. Subsequently, connect your ERP system, choose the desired action, and activate your accounts module in Decentro.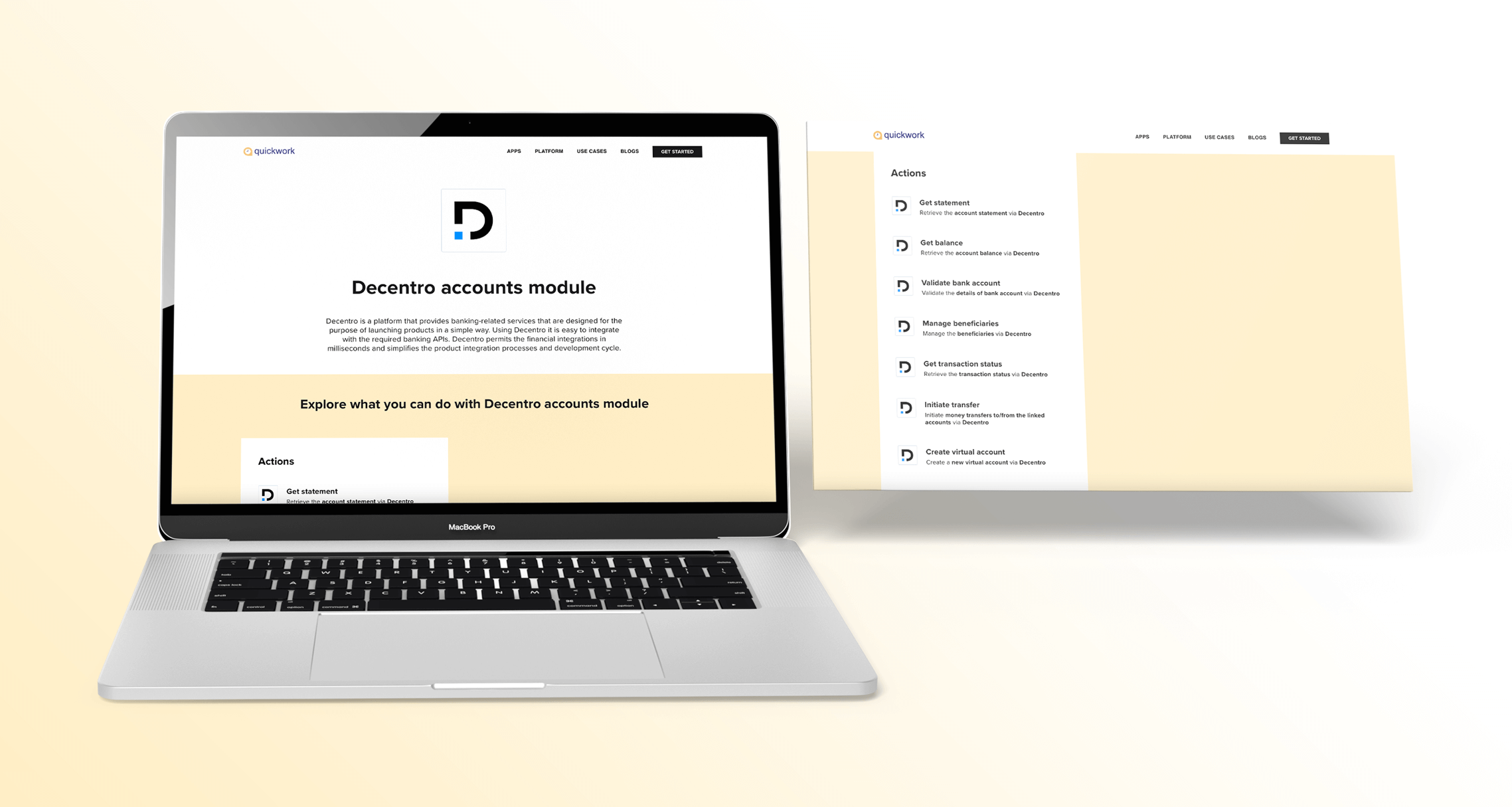 A Word From The Founders
On the announcement of the partnership, Rohit Taneja, Founder & CEO, Decentro, said,
"At Decentro, we are committed to providing a smart & unified API platform that powers banking & financial solutions seamlessly. We're thrilled to have Quickwork as our 1st iPaaS partner. Above all, Decentro & Quickwork share the same vision of empowering startups, fintechs, and even legacy financial institutions to achieve the highest degree of automation in their day-to-day activities and product workflows.
In addition, Dr. Milind R. Agarwal, CEO, Quickwork, said,
"Quickwork aims to be the de-facto enterprise iPaaS which powers every high-quality fintech startup and company. Our integration with Decentro will help to achieve our mission to build any financial or banking workflow automation within minutes. Since our platform works in real-time, fintech companies can publish APIs and manage conversations of customers with human agents, chatbots, and IoT devices easily.
A business that strays away from digitization ends up burning its pocket for various operational & infrastructural costs. Most importantly, the strides in the field of business intelligence, analytics, and importantly automation are changing the way in which businesses can optimize processes & reduce expenses.
In conclusion, by combining BaaS and iPaaS, a business can unlock the virtues of workflow automation, risk identification, and prevention before they strike. In addition, this offers a seamless customer experience and simplifies the process of accessing information for employees.
We're super thrilled about the various possibilities the partnership with Quickwork will bring to the table. If your business is looking to streamline processes and set up workflows quickly and at minimal costs, we'd be happy to enable it for you!
Cheers!