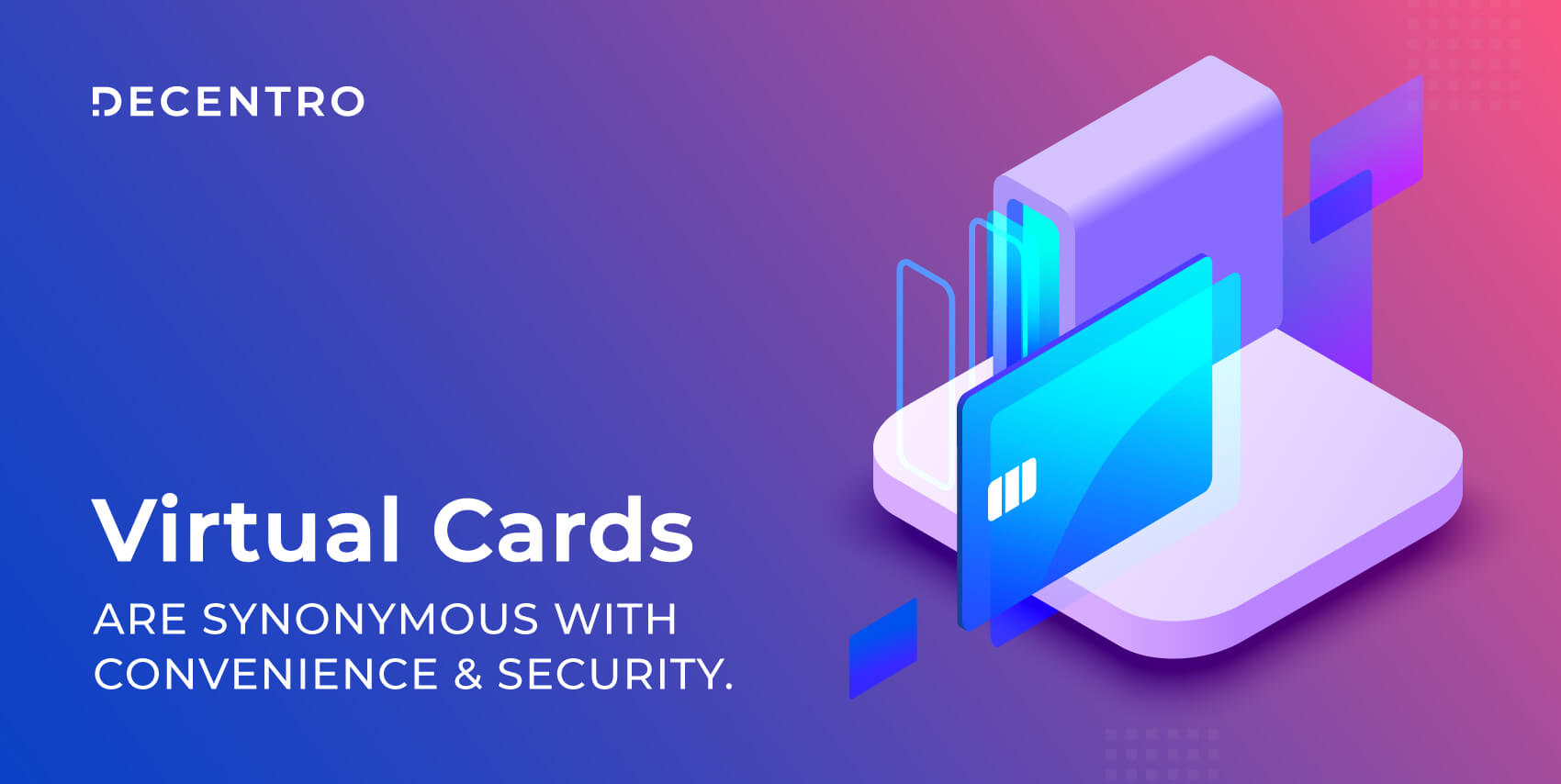 Virtual Cards Are Synonymous With Convenience & Security. Here's Why!
What are Virtual cards? How does it work? How do businesses benefit from it? Deep dive & find out!
February 19, 2008.
The country's first-ever virtual credit card was launched when HFDC Bank and Reliance Communications joined hands. The card was then estimated to be used by at least 15 lakh people, both HFDC account holders & Reliance mobile users.
With a similar ambition to move to the era of a cashless & digital economy, Google released its Wallet, which later came to be known as Google Pay, on May 26th, 2011. Wallets similar to this are the common names for prepaid payment instruments that have had a major catalytic role in the payment ecosystem.
Especially when it comes to upping the ante of tech-driven modular solutions. Don't believe us? Let's take a look at the preferred digital payment modes across India last year.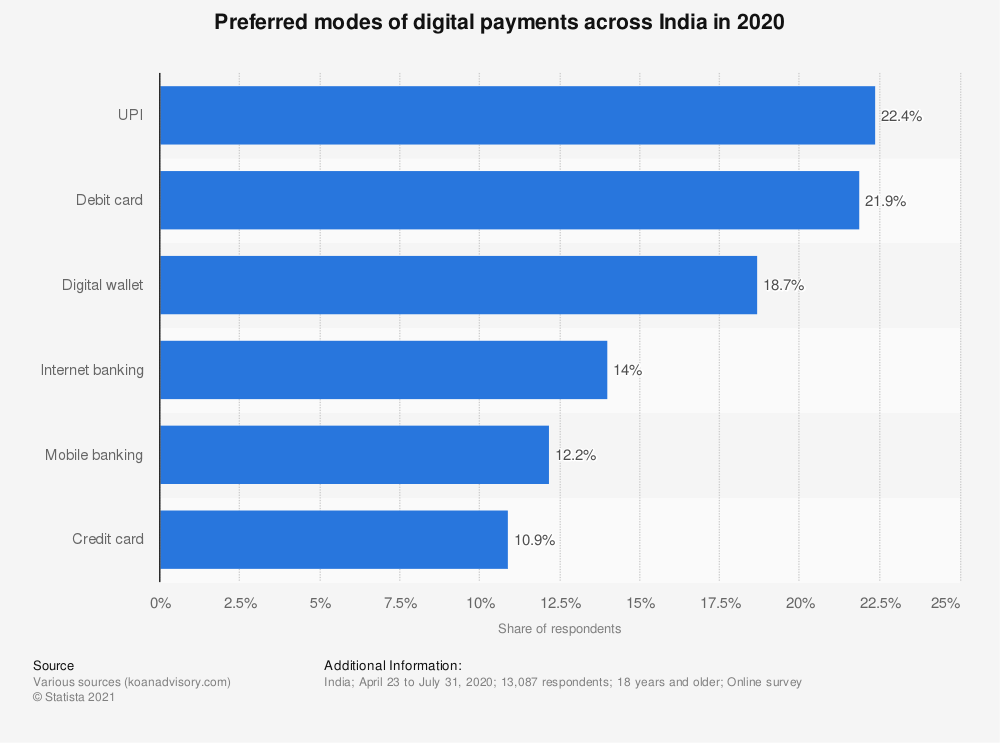 UPI payments have caused quite a stir in there, but securing a comfortable spot at the top is card transactions. Let's talk about one such payment instrument or PPI today- Virtual Cards.
What are Virtual Cards?
Along with an identification document, like a driving license, with our most embarrassing picture, one of the staple components of our wallets could be debit or credit cards. What if these physical plastic wallets had an online counterpart?
A virtual card is a payment instrument that is created & hosted online entirely, functions just like normal physical cards, and comes with details such as a system-generated 16-digit number, verification code, & expiry date.

Also known as digital cards, you can use virtual cards for online and offline purchases making it quite convenient. Unlike traditional cards, you can set the spending limits & control the usage for your customers, business partners, and merchants.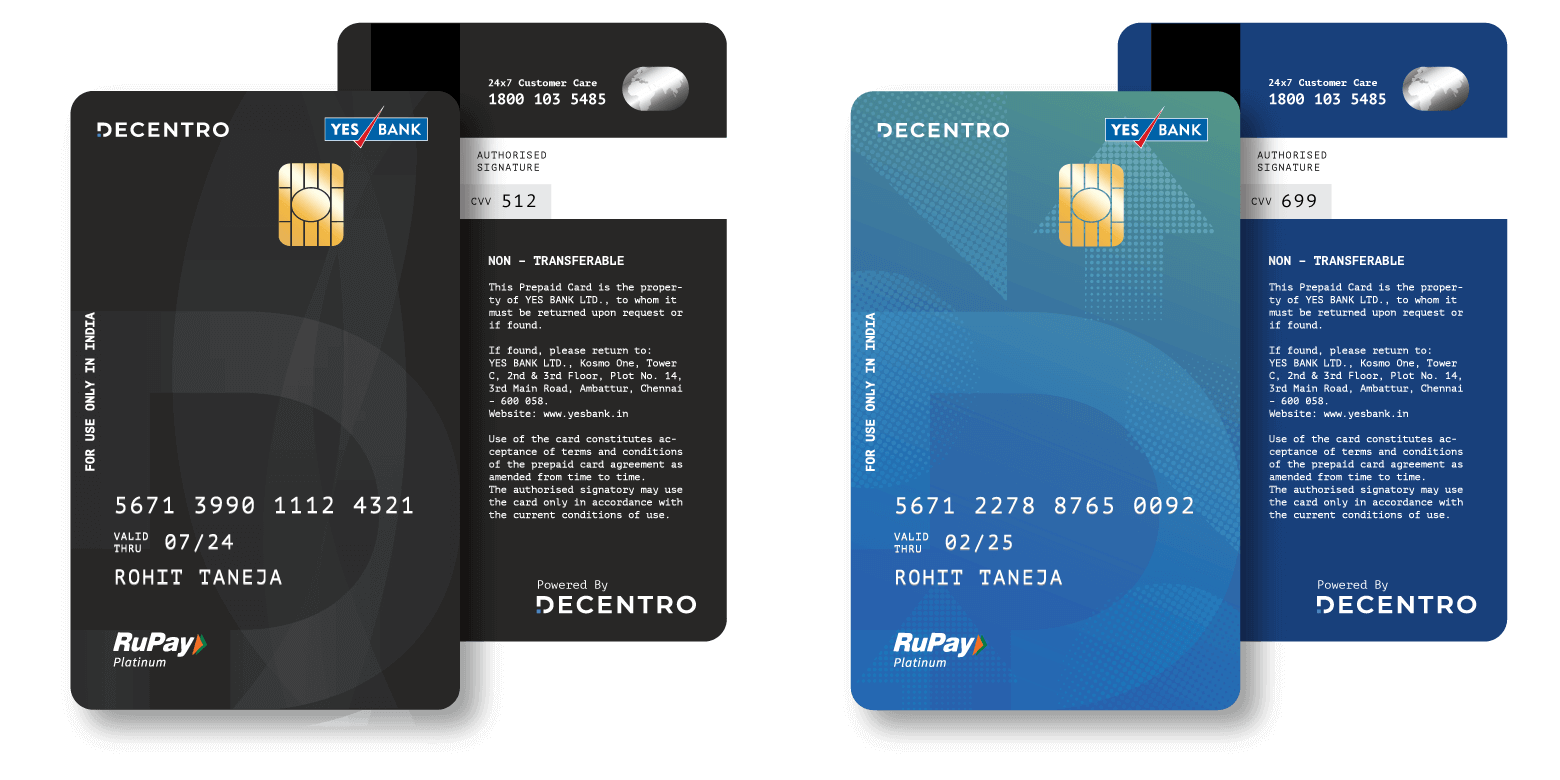 What's an Example of Virtual Payment Cards?
A good example of virtual cards could be FamCard by FamPay, offered by the country's first neobank for teenagers. There's no bank account tied to the card, making it a secure & convenient alternative. The users, i.e., parents of teenagers, can load money easily and track all payments on it. Yet another example of virtual payment cards is OneCard, a contactless card in both physical & digital forms. The latter is a metal card, the first of its kind that offers seamless NFC payments for any offline purchases, up to Rs. 5,000. Moreover, the card is valid for both domestic and international payments, and you can track all transactions with ease.
How do Virtual Cards Work?
Within every physical card, there's a chip that contains encrypted information of the account details. When you swipe the card to finish the month's grocery shopping, the information is securely passed to the POS or point of sale machine. In turn, the machine passes the data to the bank to complete the transaction.
The process has multiple levels of security checks, making it hard to replicate the card details and greatly reduce the risks of fraud.

Similarly, to ensure security is intact and even more, the virtual card flow occurs. The details on the card, such as name and account number, get converted into a random alphanumeric hashcode known as a 'token.' The transaction is given the green flag only after verifications are done. After checkout, the transaction enters your account statement, similar to a physical card payment.
Please do note that physical cards are a different form factor altogether in comparison. With that said, a business can provide physical cards tagged to the virtual counterparts or vice-versa using Decentro.
PCI-DSS Compliance
PCI-DSS or Payment Card Industry Data Security Standard is a set of policies and compliance procedures to safeguard debit & credit card transactions and prevent any fraud with misuse of cardholder's information. The standard outlines broadly six objects to be met while handling payment instruments such as cards. Some of these include:
A secure network backed by robust firewalls
Protection of user's personal details & information
Anti-virus protection & constant threat analysis against hackers
Restricted & guided access to system information & user data
Regular testing
and, Prompt audits & severe penalties for any rule-breaking
What are the Types of Virtual Cards?
We can broadly classify the types as:
Prepaid Cards
Virtual Credit & Debit Cards
Procurement cards
Ghost cards
Prepaid Cards
These cards allow you to load money into the instrument and use it across any online & offline transactions. A prepaid card is not tied to any bank account making it very secure and convenient. In most cases, your spending is till the money present on the card. A good example is FamCard for teenagers by FamPay.
Virtual Credit & Debit Cards
As the name suggests, virtual cards that offer instant virtual credit options for repayment in the future are termed virtual credit cards. For instance, Lazypay offers Buy Now Pay Later credit online. Virtual debit cards function similar to your physical card; whenever you make a payment, instant debit happens in your account. For example, the gift cards offered by your favorite brands to shop online.
Procurement Cards & Ghost Cards
Ghost cards find great use in large-scale usage- business expense management, for instance. These virtual cards have randomly generated numbers associated with particular groups, such as various teams in a company or merchants belonging to one purchase category, to track individual expenses.
What are some Popular Uses?
Financial institutions have joined hands with tech evangelists for years to brainstorm new products & offerings that will revolutionize the way we perceive banking & financial services as a whole.
Virtual payment cards find uses across different verticals for both consumer-facing and business-facing entities to streamline spending, monitor expenses, and regulate cash flow cycles. Let's understand some of the popular ones.
Fintechs & NBFCs
Fintech companies and non-banking financial institutions can launch their virtual cards for customers, partners, or employees or enable the same for their business customers. NBFCs can offer credit options via cards, while fintechs can enable their customers to monitor & optimize spends.
Consumer-facing Businesses
Non-fintech platforms can utilize virtual cards to run operations smoothly for their business and make it easy for their customers. For instance, gig economy platforms can offer virtual cards to gig workers or gig hirers to transact easily on the platform whenever a job is done. Yet another example we can take is fleet business owners releasing cards for their drivers & agents. They can use the card for food & fuel or any similar purchases. Above all, fleet operators can track & manage their entire expenses much more efficiently. 
Neobanks
Neobanks can offer virtual payment cards to their customers for making online & offline purchases. All the card transactions can be reconciled in real-time and monitored through account statements. In addition, neobanks can save manufacturing costs associated with physical cards by switching to virtual cards. The lack of maintenance fees, in this case, can help to convert and onboard more users as customers. In addition, personal finance managers and wealth managers can use virtual payment cards to help their customers monitor expenses, analyze spending patterns, and provide better purchase decisions.
Marketplace Or Aggregators
Marketplaces and aggregators can issue virtual cards to their customers, partners, or vendors to spend easily on the platform. These platforms can offer credit options with the Buy Now Pay Later feature to encourage purchases and reduce cart abandonment. Moreover, marketplaces can earn additional revenue through interchange commission for any spending through the cards and simplifying payment reconciliations.
What are the Advantages of Virtual Payment Cards
Let's take a look at the merits of virtual cards.
Enhanced Security: It's super-difficult to trace back the sensitive information of a user or business details from a virtual payment card, due to the layers of security, making it extra-safe & convenient. Moreover, in this case, the instances of fraud, theft or misplacement, or hacking of any manner are significantly lower.
Convenience Manifold: Walking around with a wallet overflowing with cards is cumbersome. With virtual cards, all you need is your smartphone. You can make payments both online & offline with ease. With NFC, all you need is to flash your smartphone to a POS machine to make instant payments. It's as easy as it can get.
Control Expenses: A business can control the expenditure made on virtual payment cards with ease. They can set the spending limit, the categories on which the card can be used, and customize it from one user to another. The transactions can also be disabled if not verified or in case of any suspicious activities.
Monitor Spends: With expenses flooding omnidirectional, business owners struggle to monitor their expenses and understand spending patterns. With virtual cards, they can view all expenses in one place and resolve this at a go.
Reduced Expenditure: Since virtual payment cards have no physical existence, the associated costs for manufacture and maintenance reduce drastically.
Decentro's Co-branded Cards For Your Business
Decentro's Co-branded Cards Module can help your business bypass the technology hurdles and integration hurdles to go live in a matter of days?
Reinforce your company's branding effortlessly through our co-branded cards. In addition, here are some quick factoids about our co-branded cards & wallets.
Track expenses in a dedicated dashboard. Monitor spends on your virtual payment cards in one place.
Compliance Checks: Don't worry about compliance checks, RBI regulations, payment instrument guidelines, or back & forths. We take care of all of these, from start to finish.
Choose from multiple bank partners. We've kickstarted the program with Yes Bank as our first partner.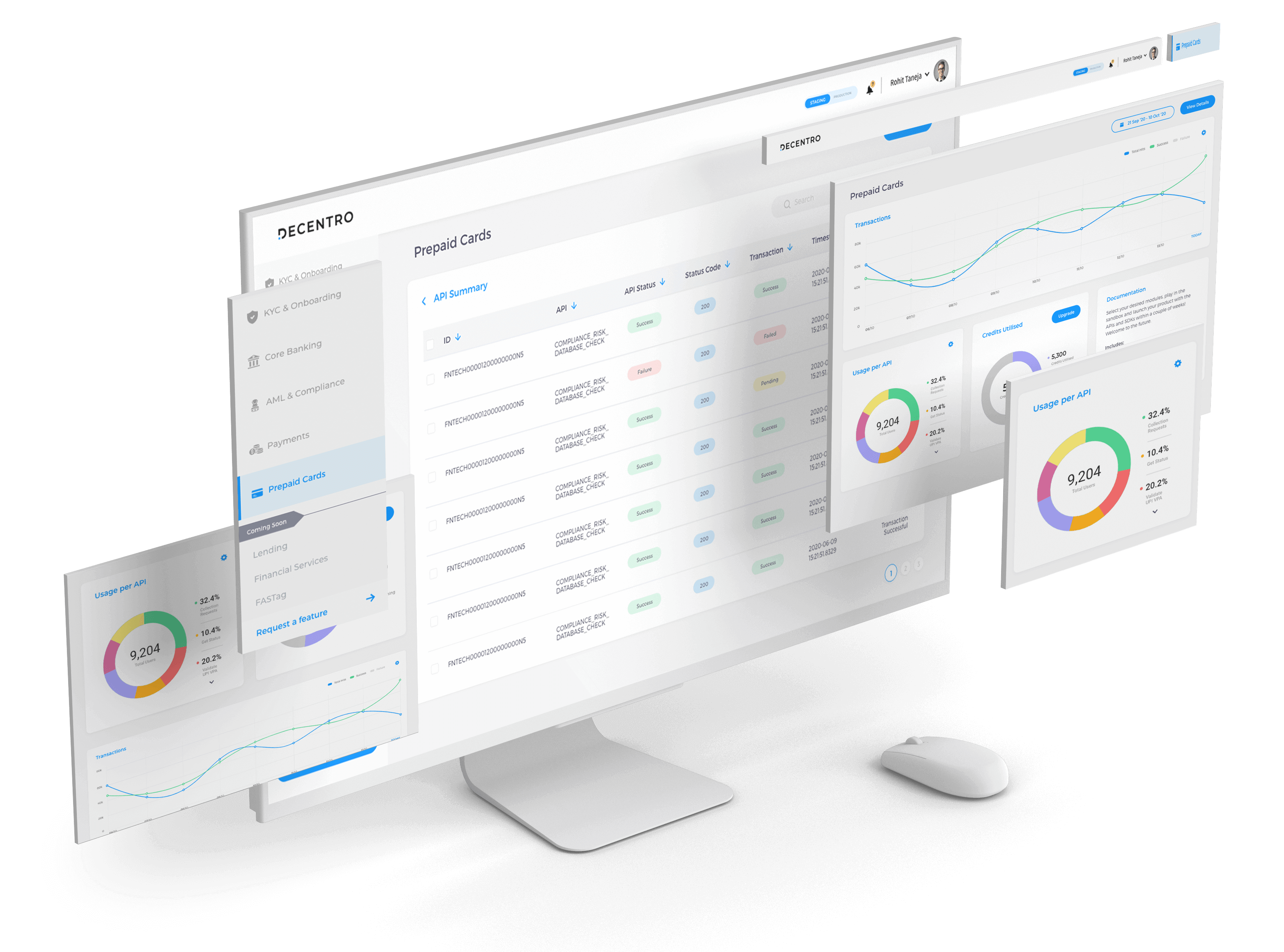 Reload your virtual payment cards easily via NEFT, RTGS, IMPS, or UPI.
Save time & business resources- we help you reconcile card transactions in real-time— including the failed ones using virtual accounts.
Customize the various categories for which the card is valid.
Create & issue new cards as & when required. Easily deactivate old virtual instruments that are no longer needed.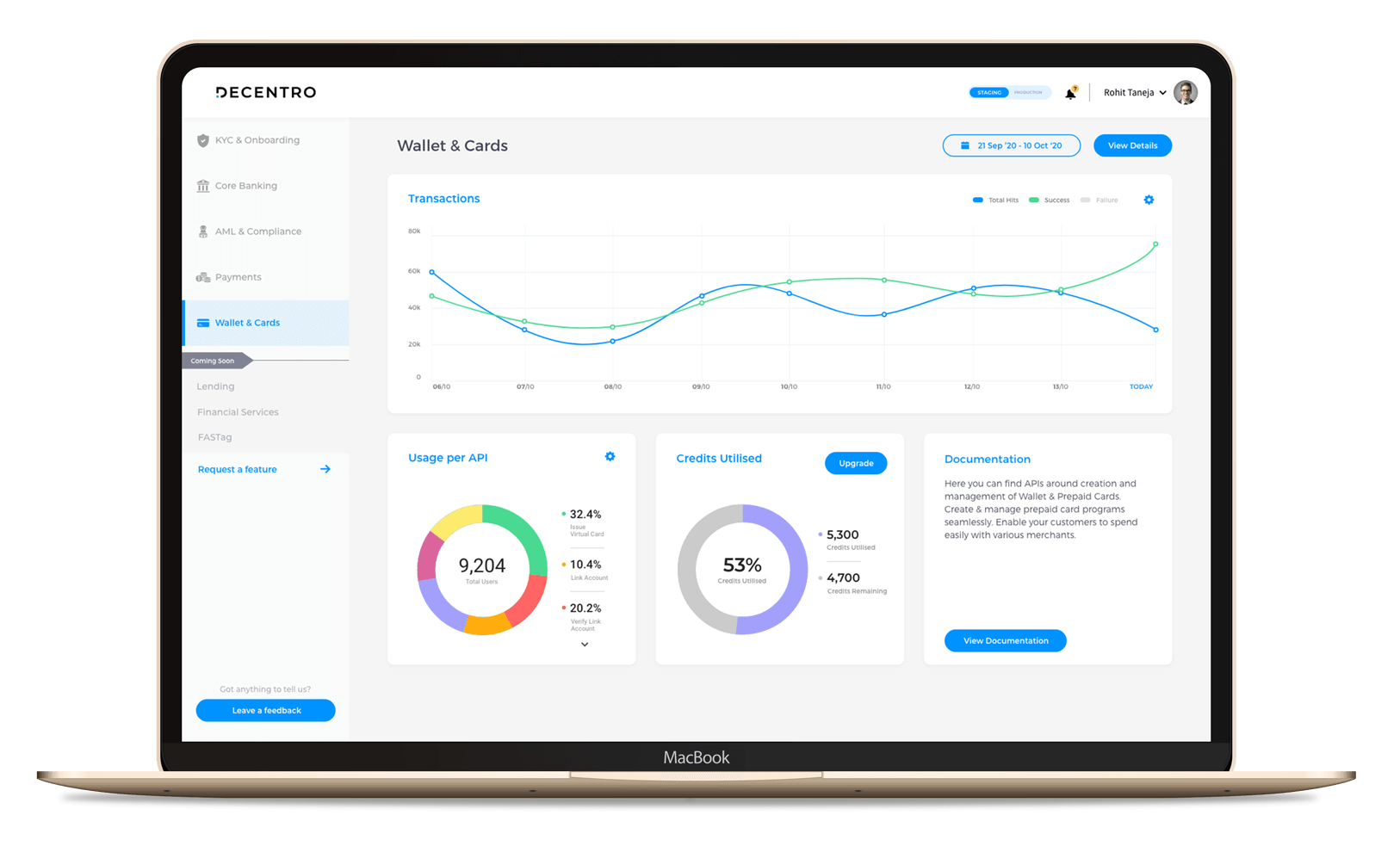 There's more!
Make your cards an added revenue stream by earning through interchange commissions or the interest paid by customers for your lending services.
NFC-Payments: The Future & Beyond
NFC or near-field communication payments set a promising landscape where a simple wave with your smartphone is all you need to make a purchase. For instance, in ICICI's Pocket app, users can link their ICICI card and create a virtual card and use it at any merchant terminal that enables NFC payments.
Similarly, Google Pay allows NFC payments just by linking a user's existing debit cards to the application and creating a virtual equivalent. Any user that has a smartphone with a near-field communication feature can simply wave their device at any offline merchant store to complete a transaction.
We're taking sturdy strides towards a contactless payment system in India, and the pandemic has only catalyzed the process further. Sounds like something your business would like to dip toes and see? We'd be happy to walk you through it. Drop by at hello@decentro.tech.
Cheers!