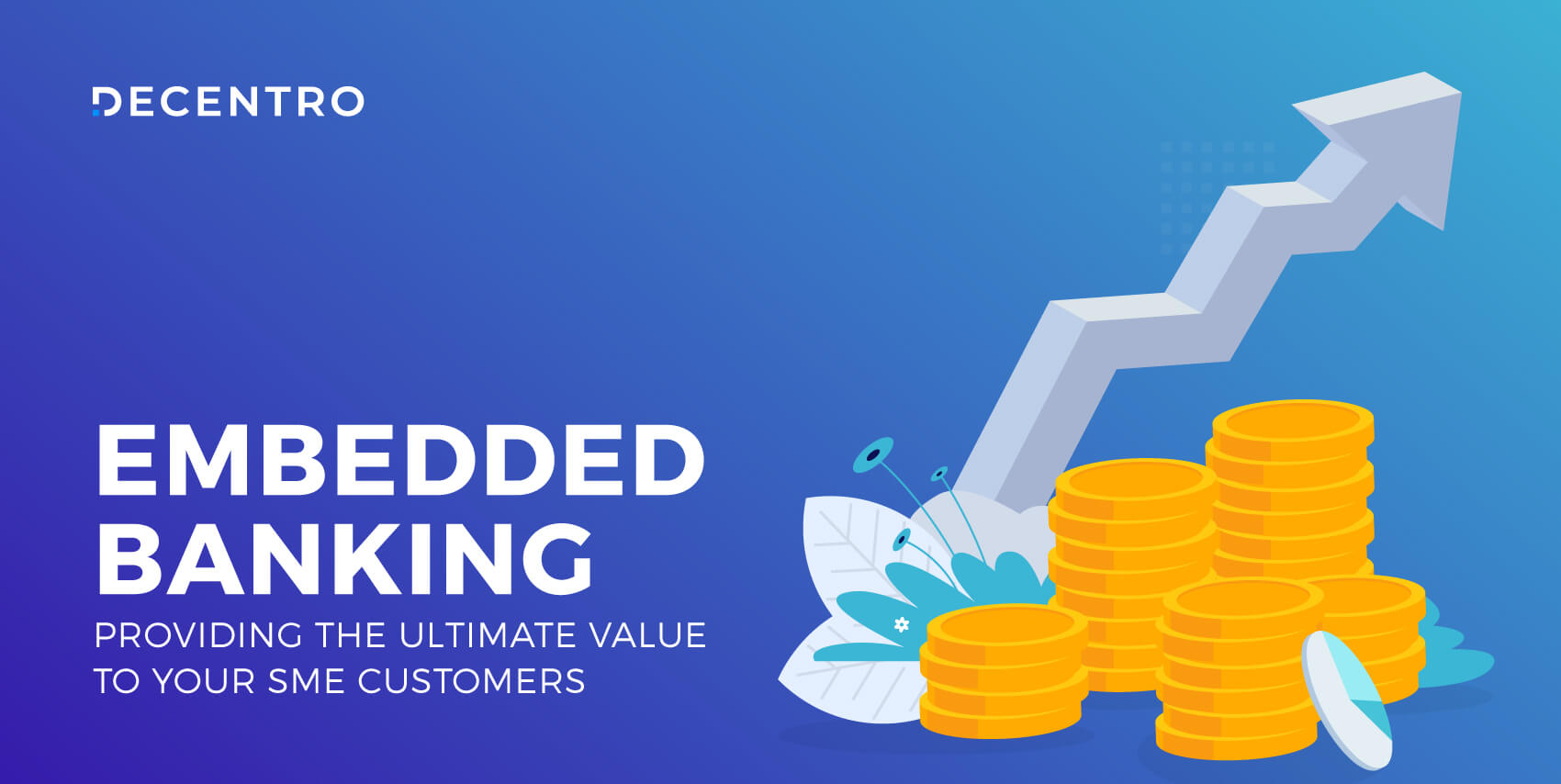 How Business Banking as a Service Empowers Your Customers
How is BaaS enabling businesses like yours to function efficiently & elevate customer experience?
Has waiting for an invoice exhausted you as a customer? Have you been in endless waiting cycles where invoices are juggled from different departments before you get a payment?
As a business owner, you would have seen admin or finance teams juggle between multiple tabs to process payments. Or, it could be coordinating with multiple people just to track an invoice & process it. Doesn't it feel pointless, extremely inefficient, and not to mention highly risky and prone to errors?
Yes, your frustration is quite natural; why don't we pause things for a moment?
Should money movement and reconciliation be this disorganized & time-draining? Can't we directly embed our desired banking workflow into our choice of dashboard or application? Especially, in today's highly connected age of applications.
Banking as a service, open banking, online banking, neobanking– the digitization in the industry is hard to miss. The reforms & laws that RBI passes aims to catalyze growth for businesses of all sizes – from a budding startup to a fully functional MNC.
How?
Let's look at the recent reports on BaaS by Equinix to see how businesses perceive the wave of BaaS.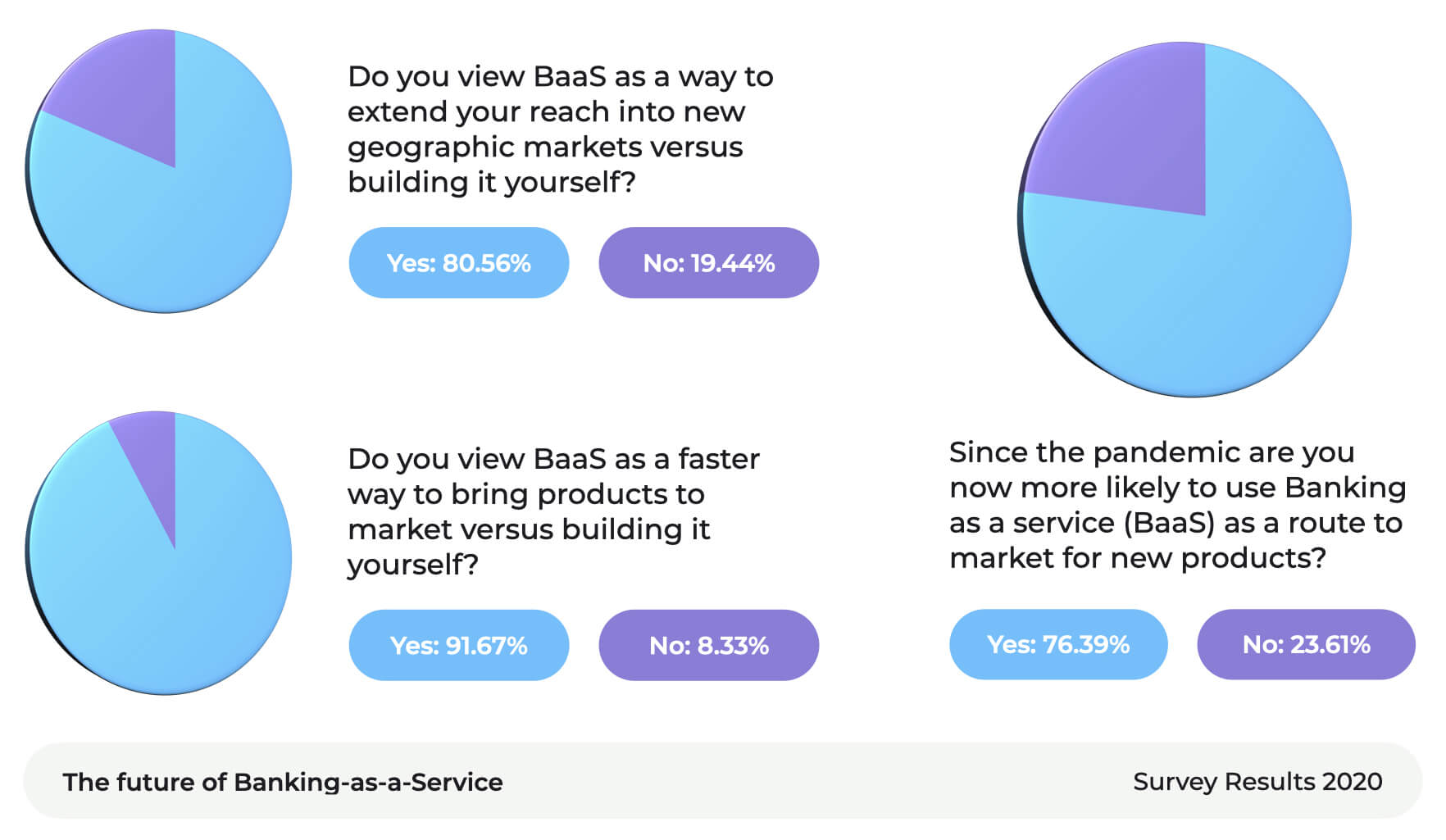 Banking as a service has enabled new players, both fintech and otherwise, to launch products within half the time, keeping compliance issues at bay. Let's find out how your business can catalyze growth with business banking as a service today.
What is Connected Banking & BaaS
Banks worldwide have understood and acknowledged the importance of incorporating technology into their offerings to serve customers better.
Connected banking uses digital technology to provide products and services that help an end-user have a positive banking experience.
In the same banner, Banking as a Service, or BaaS as the acronym, is when banks and non-banking financial institutions or fintechs collaborate to build innovative products & services, such as payments, cards, loans, and more, to delight their customers, a notch higher.
These products are essentially embedded into fintechs and regular applications, using banking APIs.
These are built leveraging the existing banking infrastructure. BaaS relies on the mandate of platform banking, using which banks open up their APIs for fintechs to use and provide specific banking services to their customers.
6 Ways Business Banking as a Service Can Benefit Your Company
Banking as a Service brings across many advantages for a business. It serves as a barometer using which you can monitor the financial health of your business. Moreover, Business BaaS helps to carry out both basic and advanced financial services for your business & customers, within your platform without stepping outside.
Let's broadly understand some of these key benefits.
Consolidate Banking at One Place
Fetch all the banking information about your company from a consolidated source. For instance, pull the latest account balance and monitor all transactions in your accounts. All this without having to log in to your corporate bank portal.
Are you a seller on marketplaces like Flipkart and Amazon? Would you like to see your consolidated bank account information on your seller platform rather than having to log into your Bank's internet banking portal each time? Your business can enable all of this through connected banking.
Transfer Payments Easily & Instantly 24×7
Bypass all the time wasted as the cooling period when you add a new beneficiary using business BaaS. In this manner, add any number of payees at once and transfer payments easily using RTGS, IMPS, NEFT, or UPI payments. This, in turn, takes the complexity out of B2B payments completely. For instance, invoice payments or any recurring subscriptions.
Reconcile Payments in Real-time
Most businesses waste tonnes of time and resources running behind reconciling transactions. With business BaaS, this happens in real-time and is fully automated. Track the path of each transaction, even failed ones, without lifting a finger, using virtual accounts!
Streamline Payouts using APIs
If you are a fintech lender offering lending services to customers, two of the primary workflows you'll wish to optimize are disbursals & repayments. Business banking offers API solutions that can streamline payouts for your business- even bulk fund transfers.
Incorporate Embedded Banking as an Offering
Business banking as a service can serve as the first step for your business to leverage embedded finance. For instance, provide credit services to your customers or partners, or build your own Buy Now Pay Later product diversifying your payment options. In this manner, you can open up new revenue streams for your business in a short span of time.
Integrate ERP or CRM & Manage Payrolls
Imagine if your ERP or accounting tool is intelligent enough to fetch transactions from your bank account, and reconcile the payments automatically.
Above all, these banking API solutions help integrate your ERP and solve challenges when it comes to streamlining financials- simplifying & automating payroll management, for instance.
Enabling Banking as a Service For Your Business
We've joined hands with ICICI Bank and kick-started Business BaaS to help your business.
Essentially, the business banking APIs enable aggregators, platforms, or marketplaces to perform various banking operations on top of their corporate accounts or facilitate the same for their MSME customers. Decentro is the first aggregator to partner with ICICI Bank in the efforts to simplify business banking.
We're delighted to share that along with ICICI Bank, there are two others who are hopping onboard in the next month or two.
We aim to partner with some of the best private & public sector banks in the country, in the coming months, to empower businesses of all sizes and across different verticals.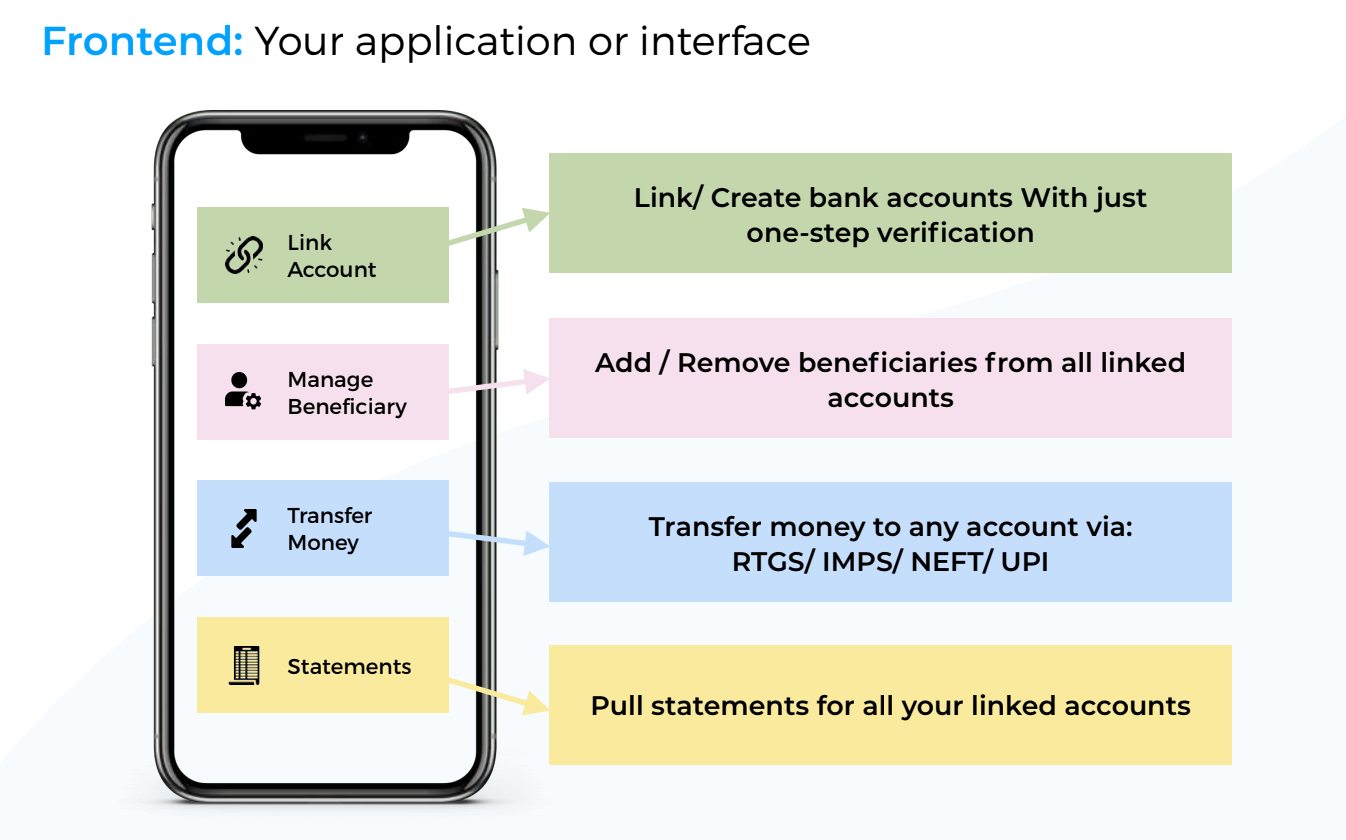 Here we can see an overview of the key functionalities available with business banking as a service.
As part of this partnership, Decentro's 7 business banking APIs are integrated with ICICI Bank for key areas including payments, accounts, and collections. With Connected Banking, small companies, or MSMEs can conveniently integrate the APIs to run their business transactions hassle-free, with any aggregator or ERP.
Moreover, it helps similar businesses to bridge the gap between their banking & accounting that was once available only for large corporations who could afford IT & infrastructure budgets.
Our aim is to democratize banking & financial services for all businesses, irrespective of their size.
Connected Banking enables fintech aggregators to carefully tailor existing business banking APIs developed by the Bank, to suit the needs of various business entities.
As a result, MSMEs can connect with fintech aggregators to integrate APIs suited to their requirements, in just weeks. No more waiting around for months, thereby saving time and reducing the associated costs.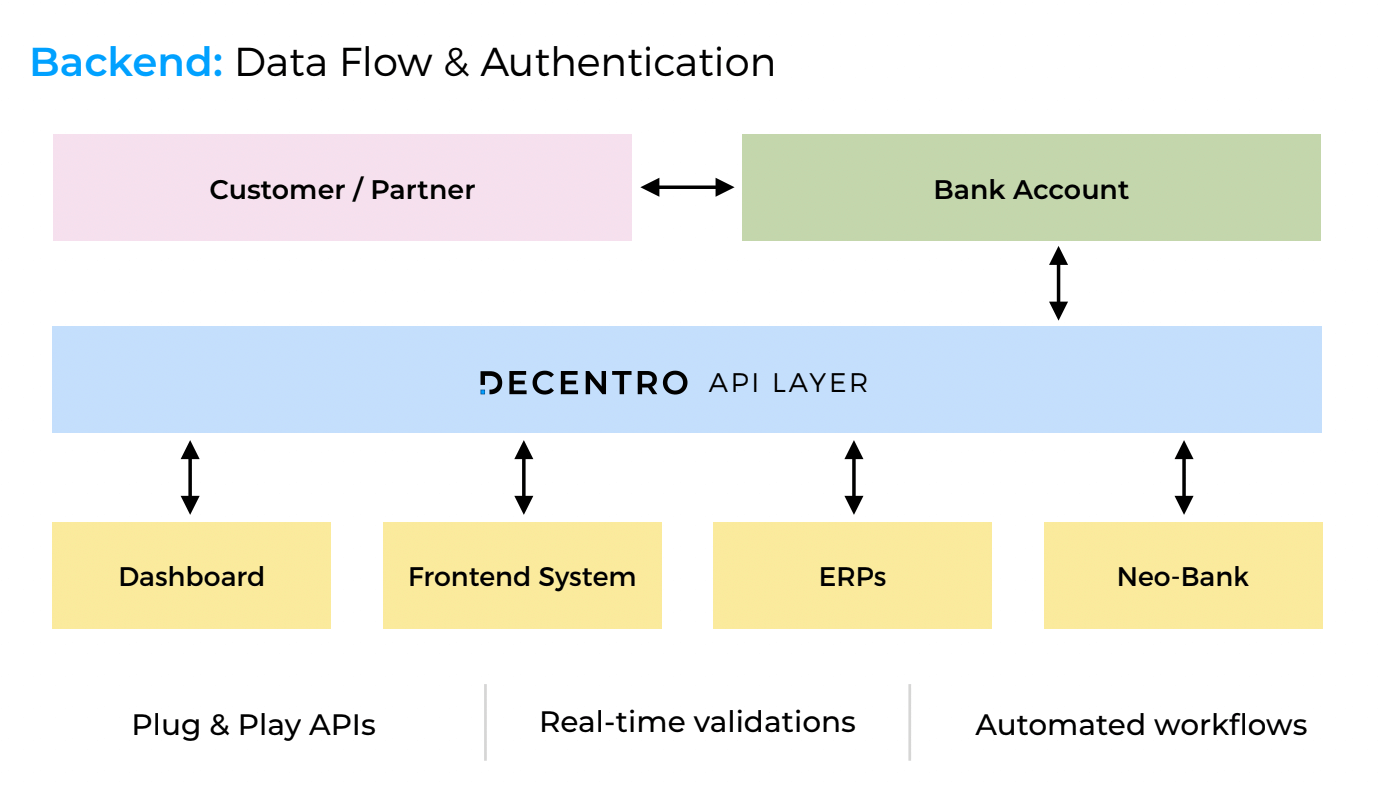 What's More?
Issue PPIs: A business can link their accounts and issue prepaid cards, both physical & virtual. These prepaid payment instruments can be given to their customers, partners, or vendors with Decentro's APIs.
10x faster integrations & 80% reduced capital expenditures: Reduce the go-to-market timelines for your business. Don't let financial integration cycles delay your product launch or burn away your capital.
Load balancing to handle volume spikes: Multiple bank partners to re-route traffic in case one faces a downtime or in case of any black swan events.
99% uptime and fastest API response times less than a few hundred milliseconds.
Before we conclude, here's a note from our founder, Rohit Taneja.
The total number of businesses onboarded on our platform has grown by 20X in just less than a year since our launch last July. During the same time frame, the daily API hits have grown by 50X.

We are thrilled to be building this crucial infrastructure for the upcoming fintech & banking revolution with our partner banks and are super proud to be backed by some of the best investors in the world.

With this new product, we are looking to empower existing as well as new categories of companies- such as B2B Marketplaces, SME Service Providers, Accounting firms, and many more.
Is your company yet to leverage business banking as a service? Are you facing struggles in terms of account management, payouts, or integration delays? Let us help you!
Drop us a message at hello@decentro.tech. We're all ears!
Cheers to making fintech & banking great again!