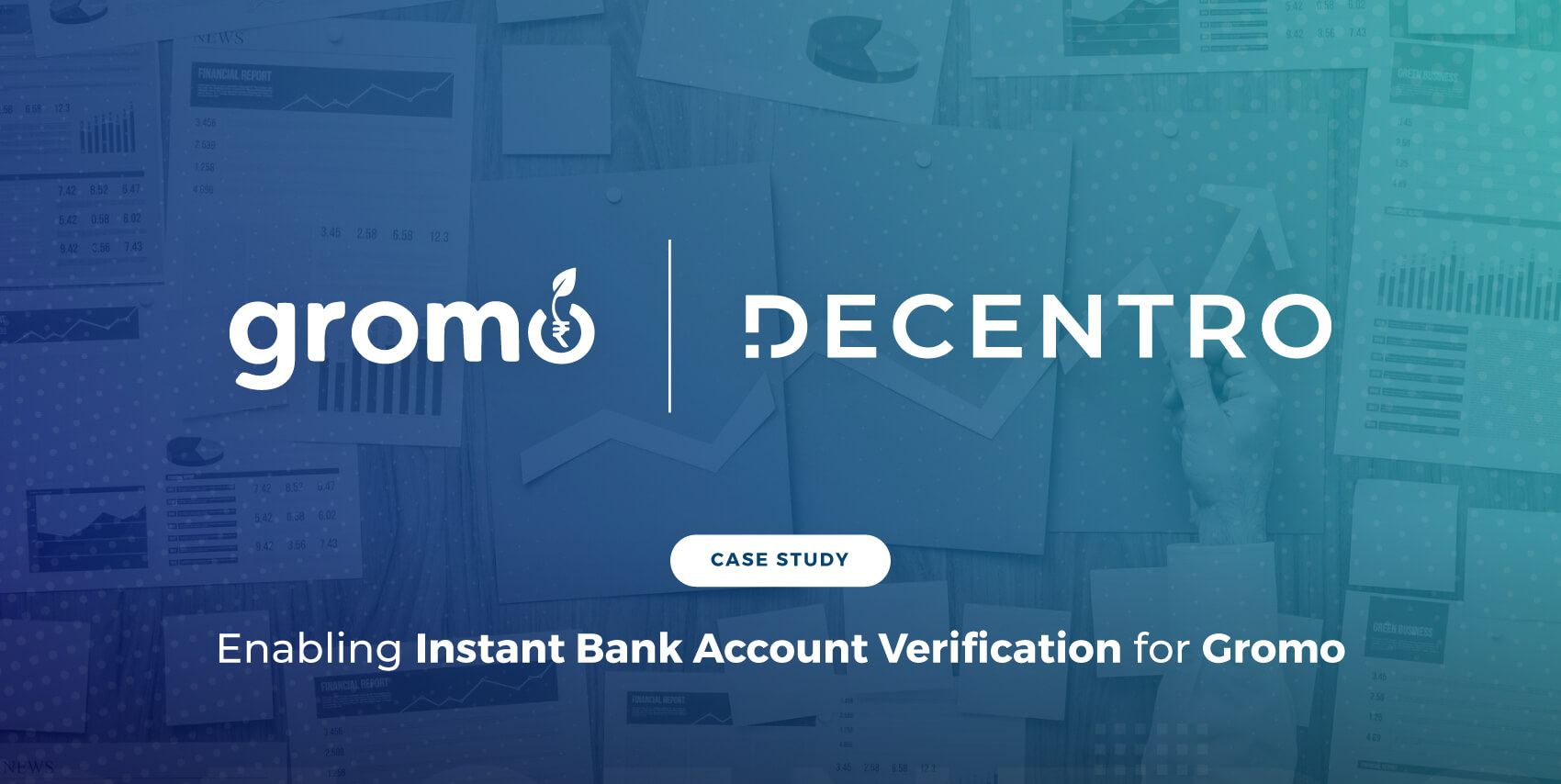 How Gromo Enabled Instant Bank Account Verification
How did Gromo, a financial product aggregator platform, overcome account validation challenges with Decentro?
A few years ago, if someone told you that you could make money sitting at home, how many of us would believe it? Social media has evolved from a place where you can connect with loved ones to something much more- a place to buy & sell, advertise a product/offering, and accelerate branding. 
One such social platform dedicated to financial products & instruments is Gromo. Their mission is simple & powerful- financial inclusion of the underserved population in the country. 
In this pursuit, this financial product aggregator platform empowers micro-entrepreneurs by enabling them to serve millions of customers. Above all, Gromo's underlying partnerships with Banks, NBFCs, and the like help them to create a seamless pipeline of financial products such as insurance, loans, and cards. 

What were Gromo's Key Challenges?
Gromo onboards financial advisors who then pitch and sell many financial products to customers.
Similarly, the platform also equips them with everything necessary to acquire more customers; for instance, Gromo helps financial advisors have personal websites, posters, visiting cards, etc.  
Furthermore, it also brings the best deals to these advisors as they enter product & customer details. To ensure a smooth operation, Gromo had to resolve pain points surrounding the below: 
Account Validation
Bank account verification is a crucial process for Gromo while onboarding users on their platform. Collecting KYC documents and verifying bank accounts (in their corporate banking portal) manually consumed a lot of unnecessary man-hours. At scale, Gromo realized that the onboarding process would become less efficient with the current process.
Bank Integrations
Integrating with a bank to kickstart financial services within a platform may sound easy & exciting, but only initially. Above all, in the current banking landscape, any such integration easily takes at least 2-3 months. And, that not just the part to worry about. Furthermore, the integration cycles are harder due to broken documentation and the back & forths for approvals.
Let's not even get into the temple runs between various departments for coordination and frequent tech updates.
Set-up Fee
Any consumer or business that consumes APIs that a bank provides has to pay a setup fee. A hefty one at that can go as high as ₹1-2 Lakhs depending on the nature of APIs consumed. Consequently, it could be a dealbreaker for many companies, especially SMBs and startups that are just starting out. 
How Decentro Helped Gromo
Decentro's instant Account Validation API proved to be the apt solution to Gromo's challenges.
Therefore, whenever a partner signed up, the API triggered a deposit of ₹1(IMPS transaction) to their account and ensured that the set-up was completed instantly and seamlessly.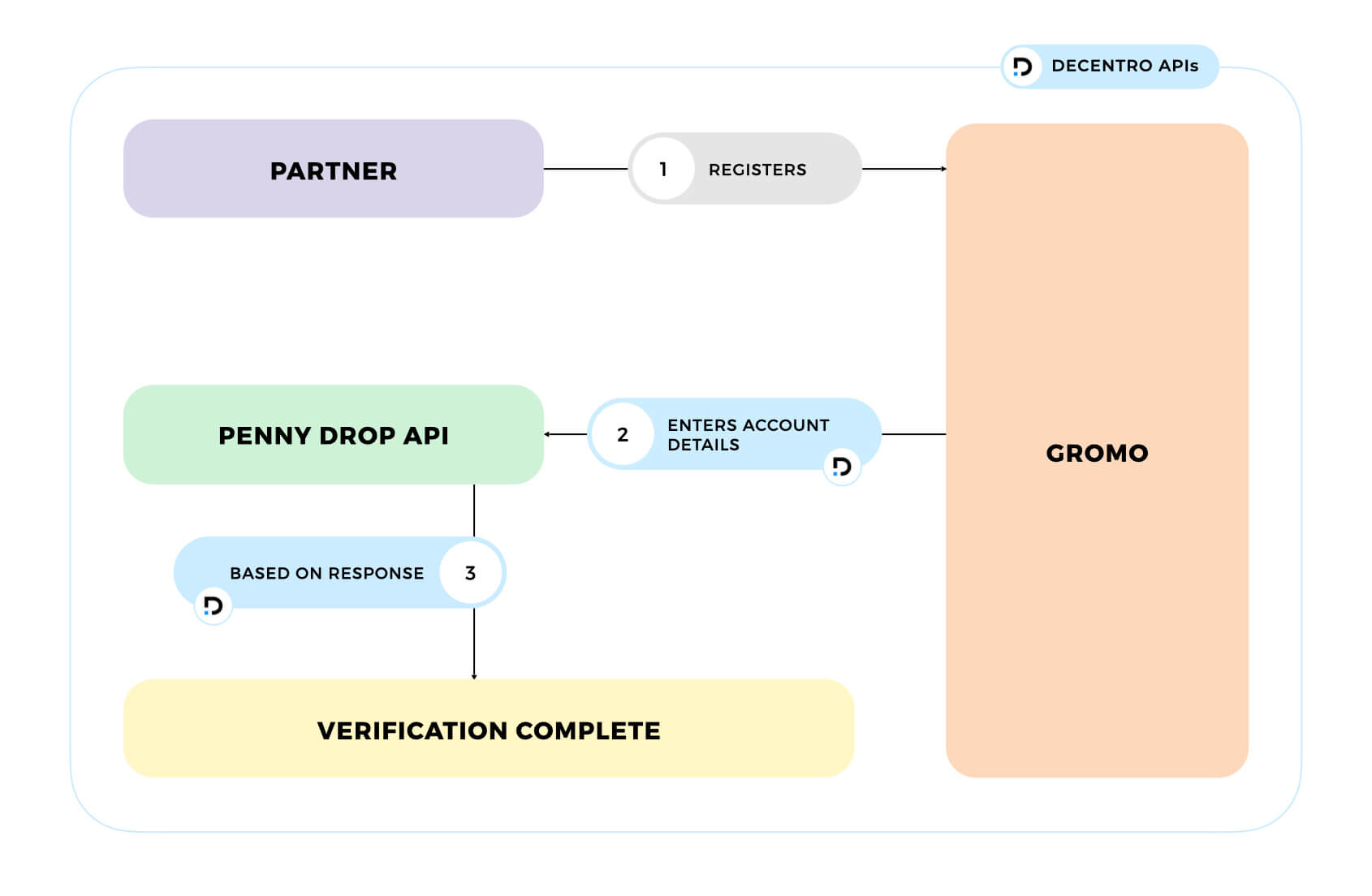 What were the Outcomes?
Gromo's go-to-market timelines were reduced by 80% after resolving banking integration challenges.
Instant account validation ensured that partners could start selling from day 1.
In addition, we also facilitated a customized amount for account validation to accommodate signup incentives.
A word from Darpan Khurana, Co-founder, Gromo.
Great work by Team Decentro. Happy to be one of the early Customers, and it has been seamlessly good so far. Using penny drop APIs to validate bank account details of thousands of our Agents to ensure a timely future payout.
If your business is trying to solve a financial challenge and overcome it as Gromo did, feel free to drop us an email at hello@decentro.tech.
That's precisely what our simplified banking APIs are here for! We've solved pertinent use-cases for our customers Zoozle & FamPay with our product suite with virtual accounts, business banking, lending, AML & compliance, prepaid cards, and payments.
It's not that hard. We'll help you make it easy.
As easy as it should be.
Cheers!