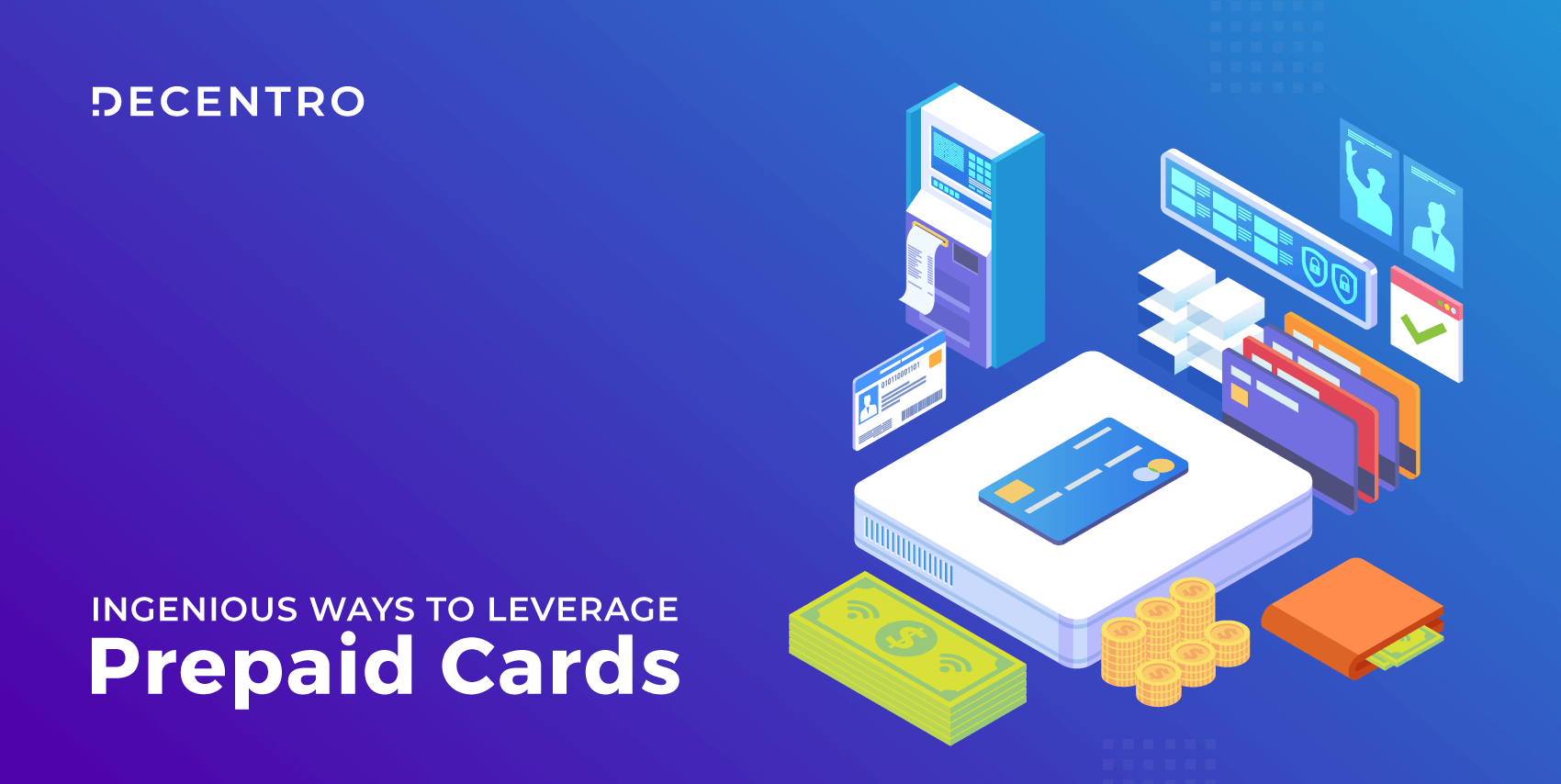 The 3 Ingenious Ways To Leverage Prepaid Cards As a Product For Your Business
What are some potential business models where prepaid cards can be deployed? Let's find out!
The recent years have witnessed a steep decline in cash payments. Digital payments have taken over, and even more so with the onset of the pandemic. Alongside, there is yet another prepaid payment instrument that's steadily gaining momentum, especially in the world of business- prepaid cards.
Prepaid cards span various industries and help business owners spend wisely or allow the same for their employees or customers. For instance, fleet cards that enable drivers to stop & spend on fuel and food, gift coupons for customers to shop online and offline, and corporate cards for employees to spend on travel, food, & leisure.
You get the idea, right?
According to Allied Market Research, the global prepaid card market size was valued at $1,847.96 billion in 2019 and is projected to reach $5,510.87 billion by 2027, growing at a CAGR of 14.9% from 2020 to 2027.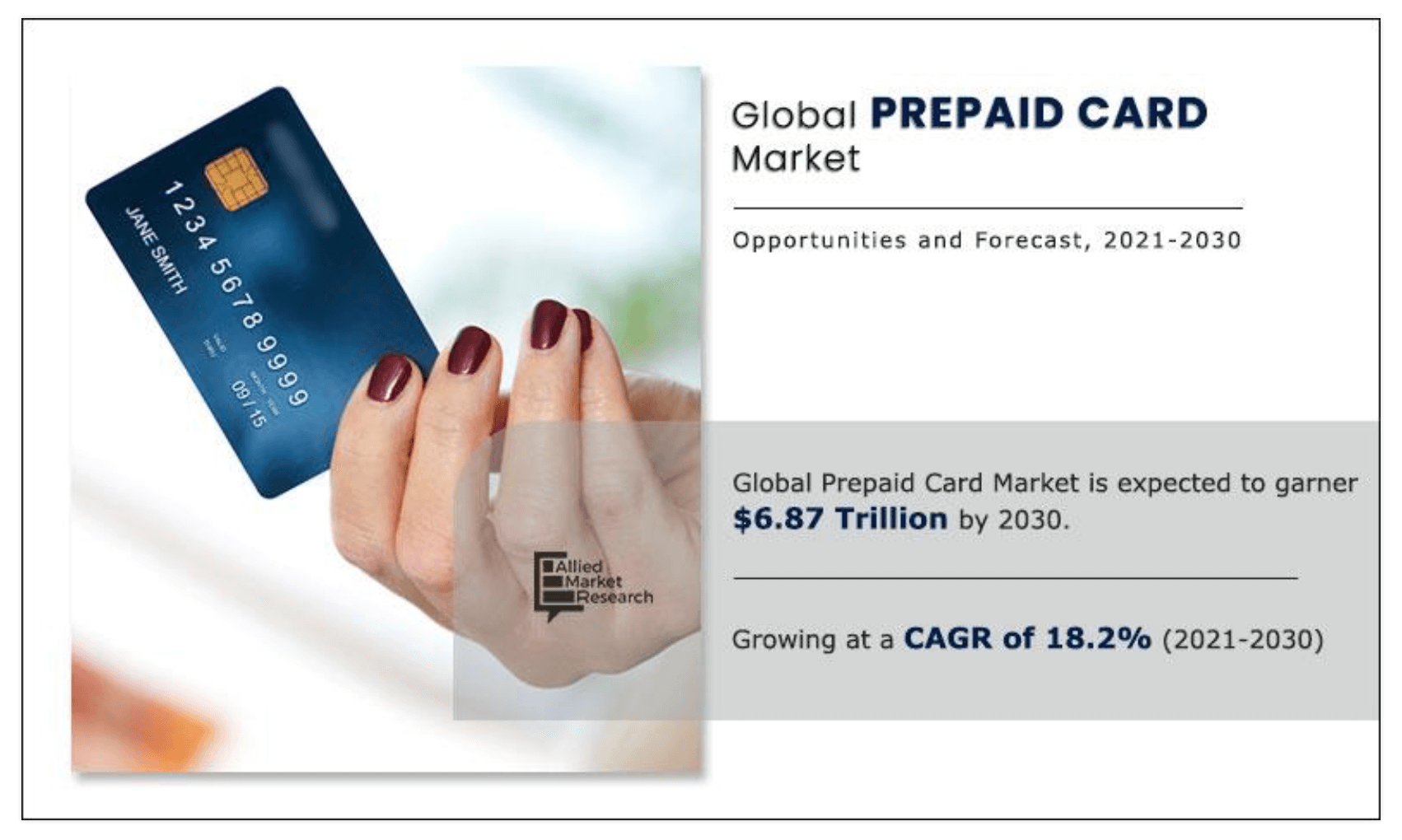 Today let's see how your business can tap into this potential market and leverage it for building & scaling different models.
What is a Prepaid Card?
In the graph above, we saw open and closed-loop cards. Before understanding what it means, let's decode the simple meaning of a prepaid card.
A prepaid card is a payment instrument that's an alternative to cash which facilitates the holder to spend on specific categories of products and services. By 'prepaid,' the card is already loaded with money and can be used against a limit set by the issuing business.
The prepaid card can be limited to the issuing business's platform or outside it and used either online or offline.
When a company allows the holder to spend outside its platform or ecosystem, such as fleet cards, it belongs to an open-loop system. On the other hand, if the card use is limited to the business alone, it is referred to as a closed-loop system. A fine example of this would be coupon cards on e-commerce websites.
How Does a Prepaid Card Work?
Let's see a simple workflow of how most prepaid cards function.

What are 3 Unique Ways to Use Prepaid Cards?
While the spending is easier on the user, a business can set up various models using the cards system. Let us see the 3 distinct ways.
Pre-loaded Cards
A pre-loaded card has money loaded in advance for the user. You can set a specific limit, and the user can make purchases against it. As a result, it is easy to limit the spending on the card from one user to another.
In most cases, a pre-loaded card is not tied to any bank account and can be loaded in different ways, such as bank transfers or UPI payments.

Example: Gift cards by employers or a prepaid wallet along with a card by a brand.
Just-in-time Funded Cards
Just in time funding refers to the process of loading a business card at the time of purchase. JIT payment allows the card issuer to transfer money to the card in real-time and instantly. The standard just-in-time payment method requires a business to pre-load money to accounts and maintain sufficient funds for each transaction of users. The company often maintains a minimum balance to avoid under or over funding.
The lucrative value of just-in-time payments comes with the advantage of not carrying a balance; the provider moves the money in real-time when a transaction request comes forth.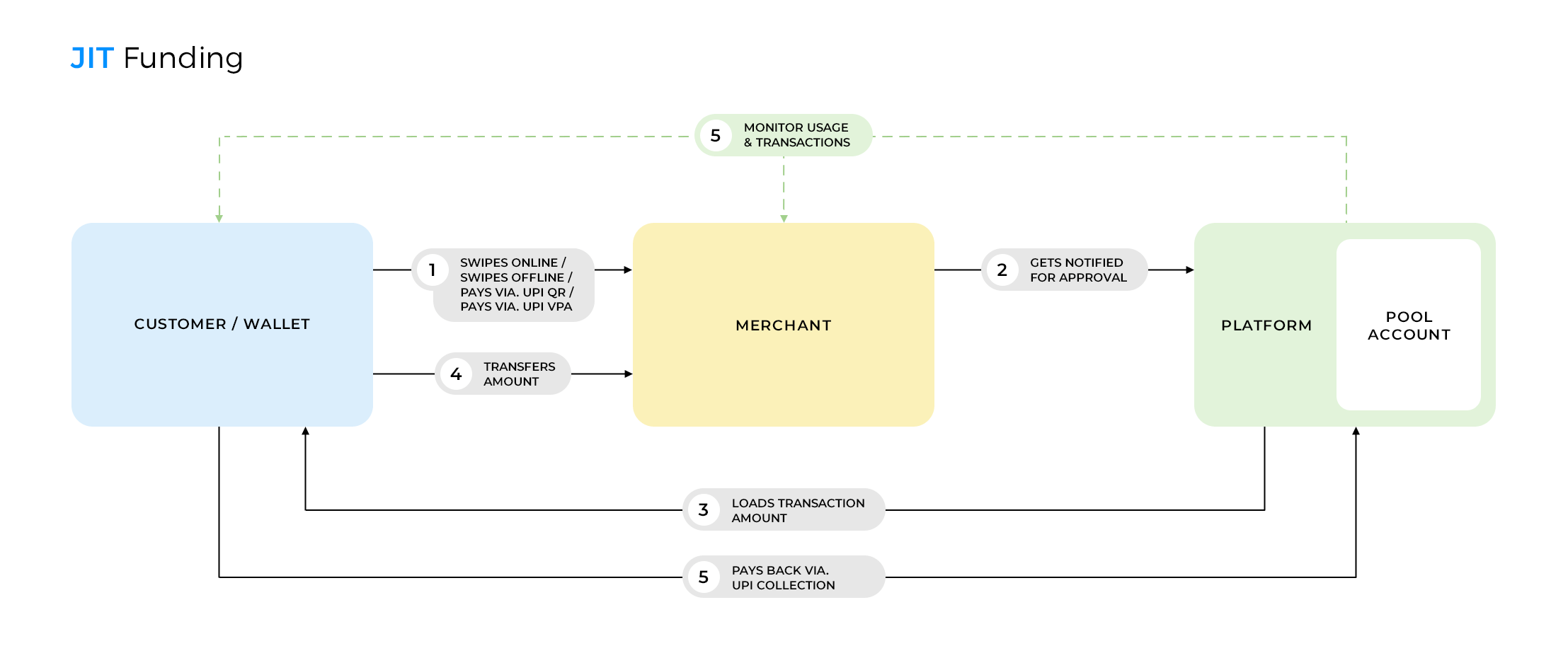 You can either apply to spend-control all transactions or set up funding requests forwards to your business to verify transactions each time.
Example: When an NBFC or fintech provides prepaid cards to a business, they set up a real-time credit approval system for every just-in-time funded transaction.
Credit/Lien Prepaid Cards
A credit/lien business card works similar to a credit card- there's a credit or lien attached to each card. In simple terms, a lien is a legal tool that lenders use as collateral to safeguard the credit provided and procure up any uncollected debts.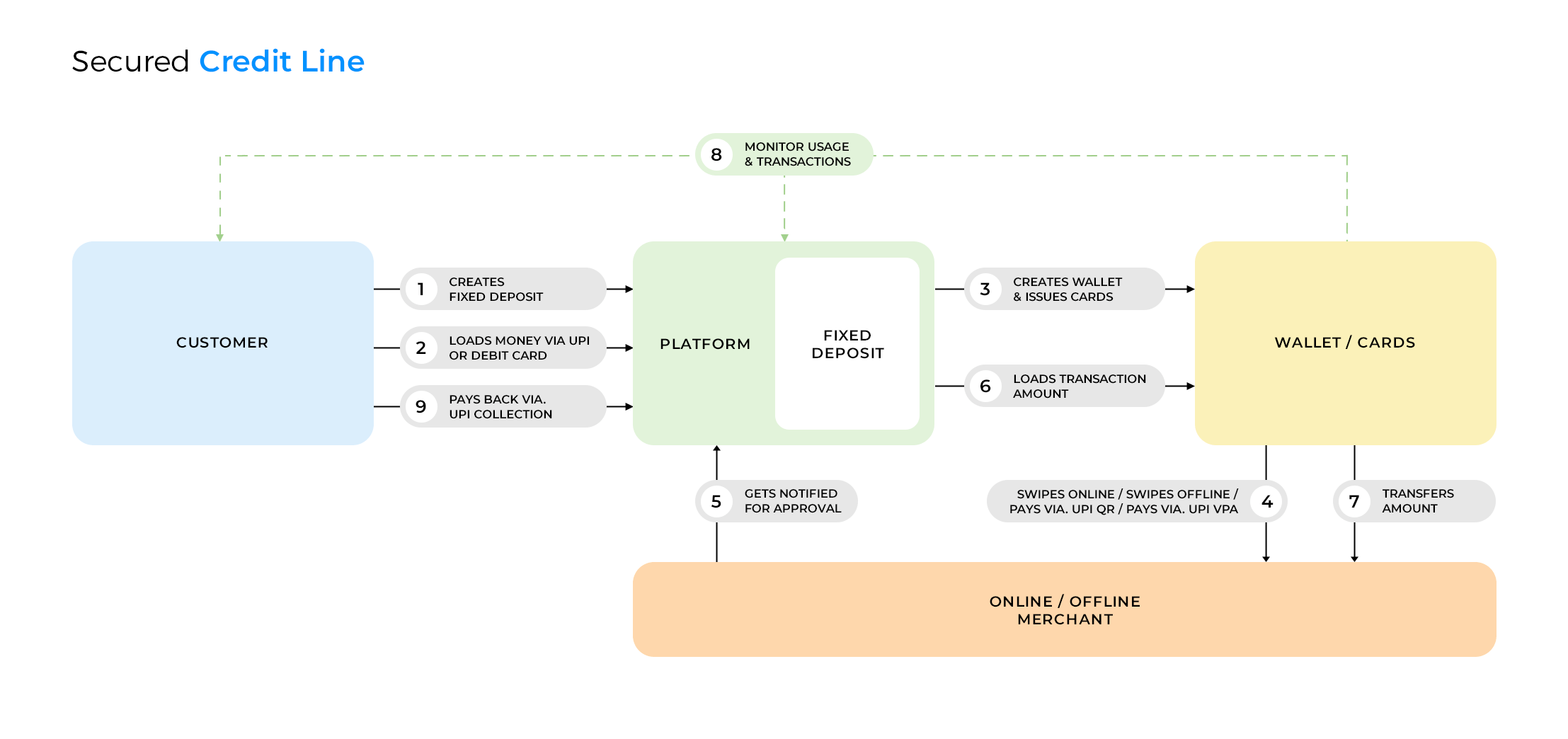 Example: A bank, fintech lender, or NBFC, takes a deposit from a business, similar to a fixed deposit, and then offers credit services with a limit. Lien on a card uses this amount deposited to provide credit via a card up to a certain limit.
What are the Benefits of Using Prepaid Business Cards?
With the different models that we've just discussed, let's see how using prepaid cards is beneficial for your company.
New Stream of Revenue
With prepaid cards, open an additional source of revenue for your business. Earn whenever a customer purchases through your card. Be it the interchange fees on each transaction or interest on the credit you've provided them!
Safer Cash Alternative
Offer a much more convenient and safer payment option to your customers, partners, or vendors. It's very difficult to capture sensitive information of a cardholder from a prepaid card, and in case of theft, a simple deactivation is all you need to do. Be it physical or virtual cards, these are safer cash alternatives.
Easy Tracking & Reconciliation
Avoid expending time, money, effort, and resources on manual reconciliation. Track all your card expenses in a dedicated dashboard. With virtual accounts, all transactions are tracked & accounted for in real-time, and you can automate this process once and for all.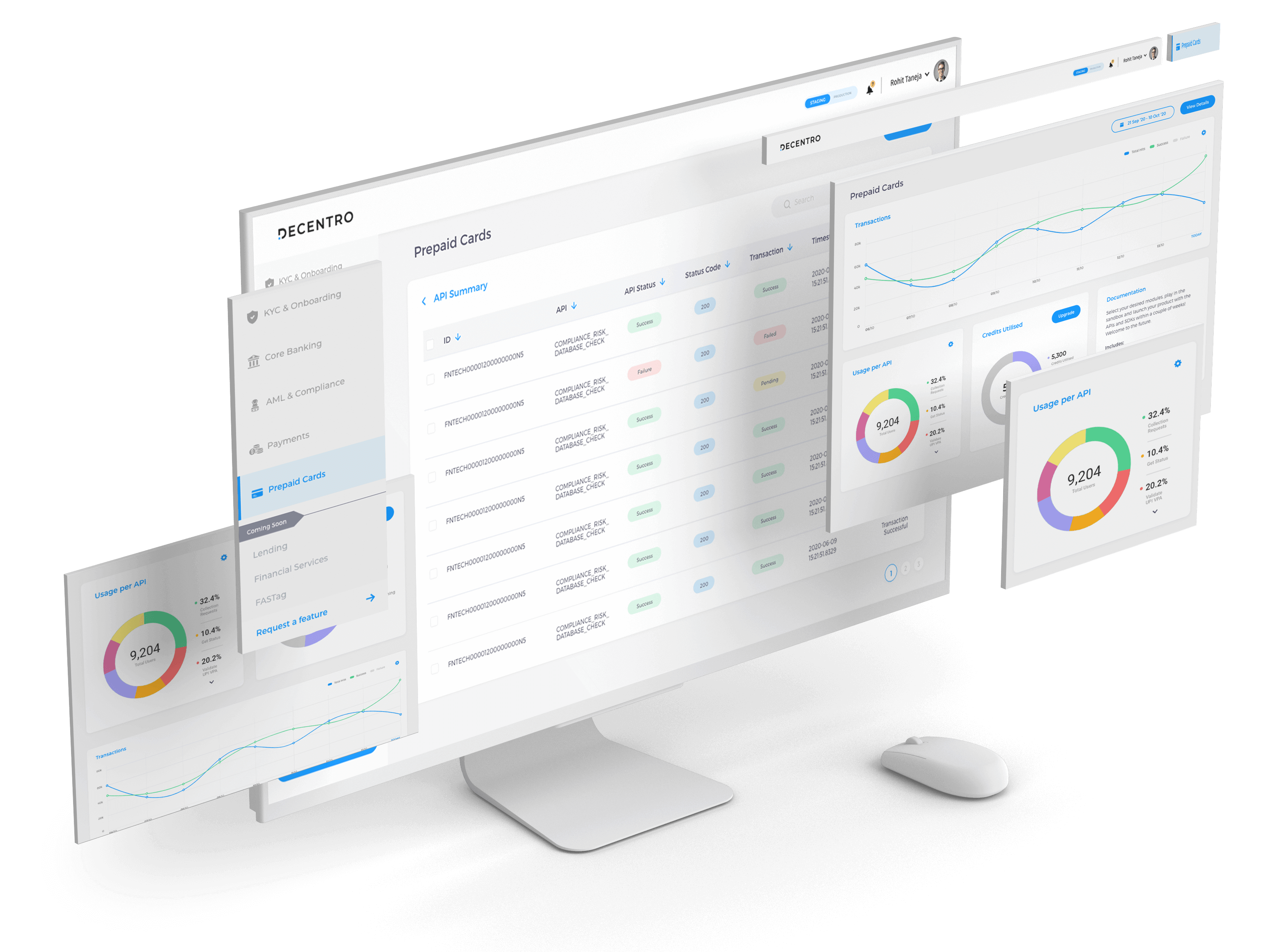 Monitor Spends & Control Expenses
Things can get a little tricky when you have payments flowing from different directions. We do understand B2B payments in particular can get tricky. You also have the ability to set the spending limit for each user and specific categories to prevent any unauthorized transactions. Keep a holistic view of all your transactions and money flow with ease.
How Can Decentro Empower Your Business?
Decentro offers reloadable prepaid cards for businesses like yours to streamline money flow, turn judicious with expense management, and enable setting up new models in a matter of weeks.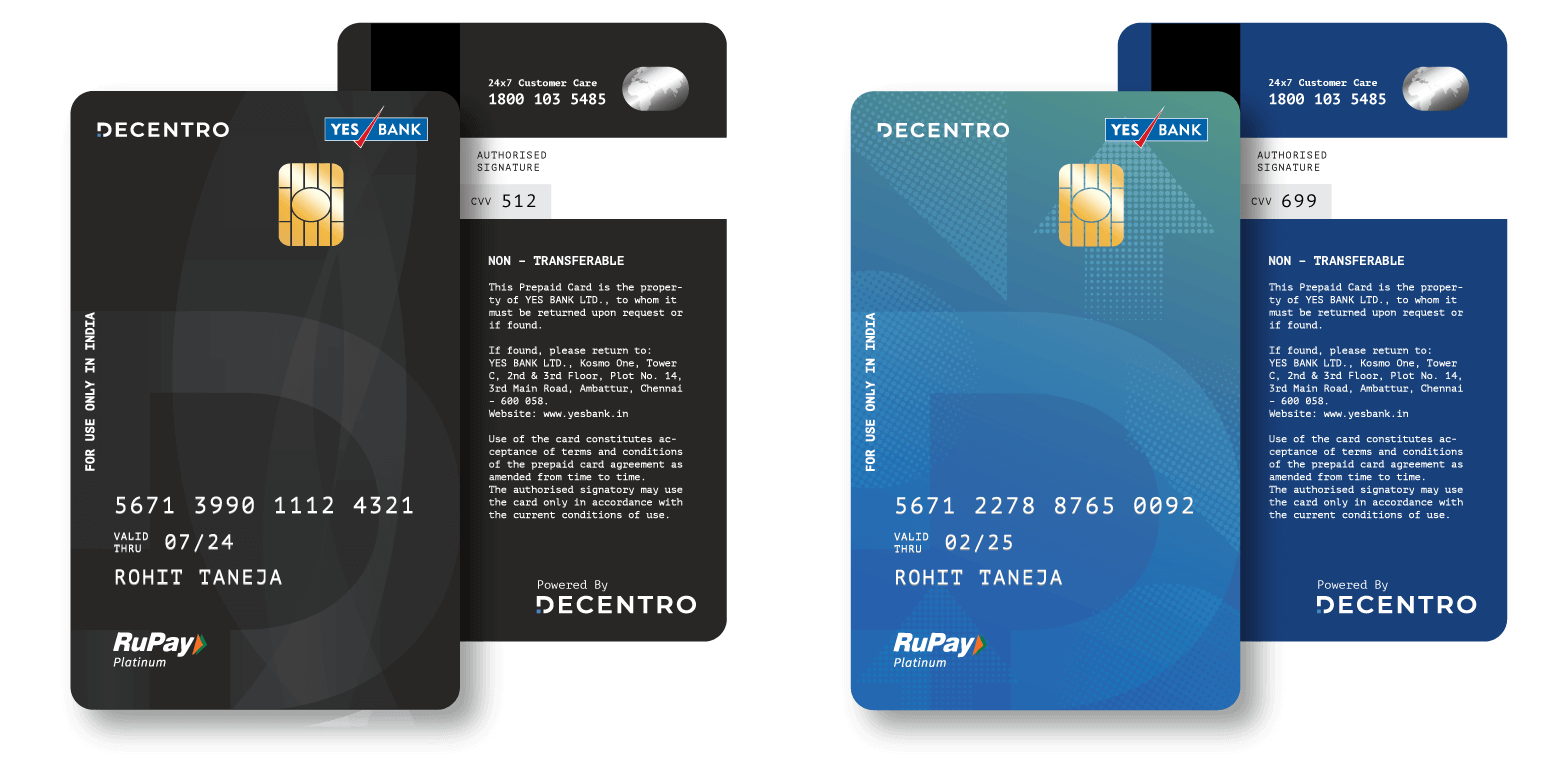 What are some of the features of these cards?
Monitor spending within a dedicated dashboard and track your prepaid card expenses in one place. Go live within weeks instead of months!
Choose among our many banking partners. We've launched the cards module with Yes Bank as our first partner.
Recharge your prepaid cards with ease via NEFT, RTGS, IMPS, or UPI.
Save time and business resources with the real-time reconciliation of card transactions, including those that have failed, using virtual accounts.
Customize the various categories for which the prepaid card is valid.
Create & issue new prepaid cards as & when required and deactivate the ones that are no longer in use.
Reflect your branding naturally with either our virtual cards or physical co-branded prepaid cards.
The payments ecosystem is making gigantic strides when it comes to innovative solutions- right from UPI, Buy Now Pay Later, to the latest e-Rupi. We're happy to do our bit to help in this remodeling of the fintech & payments landscape.
Is your business looking to draw up cards vertical but is still stuck in time and long integration loops? Let's help you. We're a text away at hello@decentro.tech.
Here's raising a toast to the bright future of Payments in India! 🥂
Cheers!